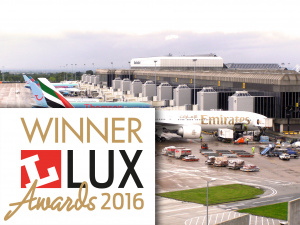 Solution: L-DALI Lighting Control
The LOYTEC Competence Center Calon in cooperation with the company Building Environment Control integrated a modern DALI lighting system with constant light control and occupancy detection in the Manchester Airport's Terminal 2 already in 2013. In further project stages, the very same lighting control solution has been extended to the public areas of the airport's terminals T1 & T3, with the aim of further reducing energy consumption following the site wide replacement of the existing luminaires to a full LED solution.
The project included the installation of DALI occupancy and DALI daylight sensors in all areas, this coupled with field intelligent processors, would enable lighting loads to be shed when areas were unoccupied. By introducing this level of automation, further energy reductions would be achieved by utilizing natural daylight.
Individual control panels are installed locally within the terminal switch rooms; these connect the DALI control bus to the BACnet based BMS system via LOYTEC L-DALI controllers. The system design not only provides a fully dynamic lighting control solution, but also provides full system monitoring of the energy consumption, device status along with detailed reporting of fault conditions. Information is available down to individual ballast and sensor level. The system design is based completely around open protocol solutions (BACnet and DALI), from sensors to controllers and also incorporates complete flexibility for any future expansion. The lighting controls system is an integral part of the BMS system, providing a full graphical implementation, which is also combined with detailed reporting functions to support the on-site maintenance teams. The system is a fully web-based solution and is therefore available both internally and externally.
In 2014 following successful trials, the BMS system was linked to Manchester Airport's flight information system (Chroma), which provided further energy savings by the use of dynamic scheduling. Lighting setpoint levels could now be adjusted based on real time flight movements and therefore further maximise the lighting efficiency.
The fundamental principle behind intelligent lighting controls and intelligent building controls is to ensure to use energy as and when required. The lighting controls system switches on lighting only when the lighting levels drop below a pre-set threshold and when there is occupancy presence within these areas. Results are quite impressive, with energy reduction of up to 89 %, totaling to a reduction of seven GWh of electrical energy (see table below).
In addition, the installed system now provides in depth management information about each individual luminaire, such as installed date, level of dimming, failures and overall energy use. The data provided by this system is a key tool in supporting Manchester Airport's asset optimization process.
The Manchester Airport project was honored with the LUX Award in London as "Project of the Year" in the category "Industrial and Transport Lighting". Recently, the extension of Manchester Airport Terminal 2 won the DALI Lighting Award in the category "Best Large Indoor Projects" organized by the Digital Illumination Interface Alliance (DiiA). The same L-DALI lighting control solution has also been implemented at Stansted Airport by LOYTEC Competence Partner BEC.
Usage prior to efficiency schemes
Location
MWh
Terminal 1
2942
Terminal 2
3739
Terminal 3
1657
Total
8338
Usage following luminaire replacements
MWh
Reduction
Terminal 1
1112
62 %
Terminal 2
1514
60 %
Terminal 3
582
65 %
Total
3208
-
Usage showing further reduction following lighting controls schemes
MWh
Reduction
Terminal 1
440
60 %
Terminal 2
576
62 %
Terminal 3
184
68 %
Total
1200
-
Total annual reduction following luminaire replacement and lighting controls schemes
MWh
Reduction
Terminal 1
2502
85 %
Terminal 2
3163
85 %
Terminal 3
1473
89 %
Total
7138
-
Eye-catching departure lounge 1:15

---
Interesting Facts
Devices: LDALI-ME204 BACnet Lighting Controller
Location

Manchester, Great Britain

Number of Nodes

DALI ballasts: > 9,500 and DALI multi-sensors: > 1,200

Topology

BACnet, DALI

Companies involved
Calon, LOYTEC Competence Center
BEC - Building Environment Control, LOYTEC Competence Partner
LOYTEC Components

82 x LDALI-ME204