Continuing High Standards:
LOYTEC Quality Management System
"He who ceases to become better, has ceased to be good."
Continuous improvement is the focus of our quality culture and runs like a golden thread through all fields of approaching our customers and suppliers, manufacturing our devices, developing software and hardware.
The backbone of our total quality optimization is made up of three main sectors:
Careful selection and continuous training of our staff
Precision work and extensive checks during the manufacturing process
Careful selection of suppliers
Qualification and further training of staff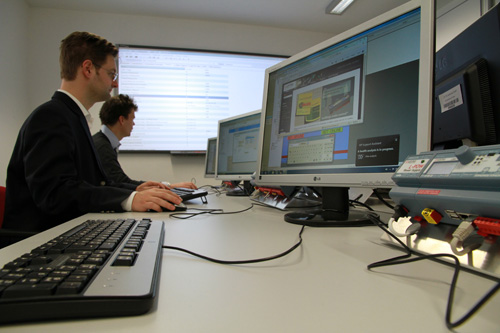 The highly qualified employees and skilled professionals of our development department are not only selected carefully, but also undergo a persistent further education program:
Highest standards are demanded regarding level of education and professional competence
In-house education to specialize in a specific subject
Continuous internal as well as external training, participation in international conventions, publication of technical papers, lecturing
International networking with competence centers, expert committees and leading technology center
Research and technology co operations
Close collaboration with universities and research facilities and continuous communication with technology platforms ensure information transfer on a high level and ongoing stimuli for trend setting innovations. Among others, LOYTEC cooperates with the University of Technology Vienna and the Austrian Institute of Technology.
Process control
Throughout all phases of the production process (before, after and during production) LOYTEC performs complete checkouts, which all components are subject to:
With methodical incoming goods inspection LOYTEC ensures that faulty material or parts are identified, marked and eliminated. Only canvassed parts get into processing
Throughout all stages of production and assembly quality checks are made to ensure the projected device quality standard with the aid of appropriate test and measuring methods. Traceability of finished products back to the lot is fully documented. This is necessary to match the device in case of complaints and to specifically execute fault isolation and debugging.
Final product test is an essential element of our quality assurance system and is recorded in specific test schedules. Consequently each device undergoes a quality check before delivery.
Supplier selection
Before a manufacturer of parts can become supplier for our in-house hardware manufacture, specific criteria need to be realized:
Sampling to check the quality of the projected delivery
Certificates, testimonials and other evidence about the origin of the goods
Documentation of the suppliers quality management system
Quality criteria of prior deliveries
Suppliers audit, determined in the course of a quality assurance agreement and performed in terms of a process audit
Suppliers are carefully reviewed to these standards and are approved and accepted by the management. In case of objections, additional evaluation takes place.
The continuous improvement of the overall performance of our company represents a permanent goal. We constantly improve the efficiency of our quality management system by means of our quality policy, definition of quality aims, evaluation of audit results, data analysis, corrective and preventive actions as well as assessment by the management.
The management board always pursues optimization of effectiveness of all processes and does not structure improvement measures to be revealed through failures.
Quality management is an important part of our company culture.