The L-ROC Room Controller provides the basis for a revolutionary room automation system based on IP, which seamlessly integrates with native BACnet/IP networks and LonMark Systems at the controller level. Together with the L-STUDIO software flexible room solutions can be created with little effort and changed on demand. An integral part of the L-ROC System is a Web based room operation via an LWEB‑803/802 dashboard and the automatic generation of graphics for the L-VIS Touch Panel for local operation. For CEA‑709 room control units, CEA‑709 multi-sensors and other CEA‑709 devices can be connected via the LonMark TP/FT-10 channel on the L-ROC controller. Local inputs and outputs are provided via L-IOB I/O Modules. KNX S-mode devices can be connected through KNX TP1 by using the optional LKNX-300 module.
Flexible Room Concept for Room Automation
A room segment is the base unit of configuration in the L-ROC System. The L-ROC Library provides a set of functions for every window axis including:
Lighting control with constant light controller
Sun blind control with angle adjustment and year shade progression
Temperature control for heating, cooling, and ventilation
Occupancy detection
Window monitoring
Each L-ROC Room Controller can handle up to 16 room segments. Based on the various room segment types, larger buildings can be modeled in a hierarchical manner. Areas are built with an area manager by combining multiple room controllers. A floor manager manages multiple areas in one floor. Depending on the architecture, the building can be split up into areas and floors as needed.

Area/Floor Managers are responsible for handling functions needed for corridor, staircase, and bathroom lighting, or even ventilation. Floor managers facilitate the data communication between the floors and handle floor relevant functions.

Rooms can now be created arbitrarily in any size by moving, building, or removing partition walls. The resulting logical connections between the L-ROC Room Controllers will be built automatically. All graphical user interfaces and network connections are automatically generated and adapted respectively.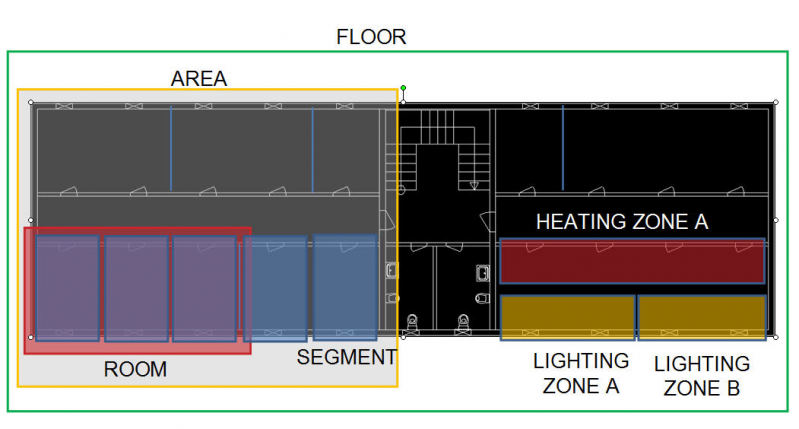 AST™ for Every Room Segment
L-ROC provides a set of functions for Alarming, Scheduling, and Trending (AST™) for every room segment. Each room segment can be operated entirely independently. The AST™ functions are fully available to higher-level systems through BACnet/IP and Web services (L-WEB System). Distributed schedulers can be efficiently managed and changed with LWEB-900.
Room Communication through redundant or separated IP Network
L‑ROC Room Controllers are interconnected via a 100Base-T Ethernet network. Each L-ROC device is equipped with two Ethernet ports. It can either be configured to use the internal switch to interconnect the two ports or every port is configured to work in a separate IP network.
When the Ethernet ports are configured for two separate IP networks, one port can be connected for instance to a WAN (Wide Area Network) with enabled network security (HTTPS) while the second port can be configure to be connected to an insecure network (LAN) where the standard building automation protocols like BACnet/‌IP, LON/‌IP, or Modbus TCP are present. These devices also feature firewall functionality of course to isolate particular protocols or services between the ports.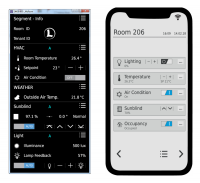 Using the internal switch, a daisy chained line topology of up to 20 devices can be built, which reduces costs for network installation. The IP switch also allow the setup of a redundant Ethernet installation (ring topology), which increases reliability. The redundant Ethernet topology is enabled by the Rapid Spanning Tree Protocol (RSTP), which is supported by most managed switches.
Integrated L-WEB Room Operation
L-ROC controllers provide graphical user interfaces for room operation directly via an IP connection to the user, without the need for an additional web server. Graphic projects are distributed among the L-ROC Room Controllers and can be accessed by LWEB‑802/‌803 from any PC workstation, smart phone, or tablet PC running Android or iOS.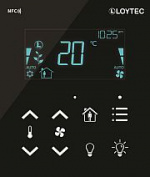 Integration of the L-STAT Network Thermostat
Per L-ROC Room Controller up to 16 L-STAT room control devices can be integrated into building automation via Modbus RTU (RS-485) interface. In addition to the attractive, modern design and intuitive operation, L-STAT provides a range of other features to individually increase the room comfort.
Internal sensors measure temperature, humidity, condensation, occupancy, and also the CO2 value of the air. There is also the possibility to control room functions from remote via an IR remote control. Standard pushbuttons and external temperature sensors can be integrated through additional inputs.
Connection to Higher-Level Systems
Higher-level systems can seamlessly integrate L-ROC Room Controllers via BACnet/IP, LonMark IP-852, or Web services (OPC).

All these protocols are simultaneously available. It is possible to integrate the L-ROC Room Controller in a BACnet Operator Workstation and at the same time L‑ROC will communicate with other CEA‑709 devices on the IP-852 channel. Moreover, a higher-level SCADA or ERP System (Facility Management) gets information directly from the L-ROC Room Controller by using Web services based on OPC.
Full LWEB-900 Support
The L-WEB System uses Web services to communicate with the L-ROC System. All device and operating parameters of every single L-ROC Room Controller are automatically synchronized with the LWEB-900 SQL database by the LWEB-900 client or the LWEB‑900 Master Device Manager. The parameters are available to all L-WEB client applications.
I/O Integration via Plug and Play
The L‑ROC Room Controllers can automatically integrate physical I/Os by using L-IOB I/O Modules. Up to 24 L-IOB I/O Modules can be connected through LIOB‑Connect, LIOB-FT, or LIOB-IP. All I/Os can be used by the L-ROC application and are also available via the Web interface of L-ROC. All configurations of the L-IOB Modules are stored on the L-ROC and loaded on demand into the L-IOB I/O Modules. Exchanging I/O modules is done without any configuration effort requiring only a few quick configuration steps.
Year Shade Progression
Especially in dense city areas, buildings can cast shadows on each other. In case a façade element is shaded by another building, sunblinds can be deactivated for better daylight harvesting. The high-performance L-ROC controllers allow to calculate a 3D model in dxf-Format of the building and its close-by neighbors. The model can be constructed using common 3D CAD software or can be derived from a Building Information Model. In case the scenery changes due to new constructions, only the new buildings have to be inserted in the model. The calculation can be done for each window individually or per shadowing zone.
IoT Integration
The IoT function (Node.js) allows connecting the system to almost any cloud service, either for uploading historical data to analytics services, delivering alarm messages to alarm processing services or operating parts of the control system over a cloud service (e.g., scheduling based on Web calendars or booking systems). Processing Internet information such as weather data in forecast-based control is also possible. Finally, the JavaScript kernel also allows implementing serial protocols to non-standard equipment.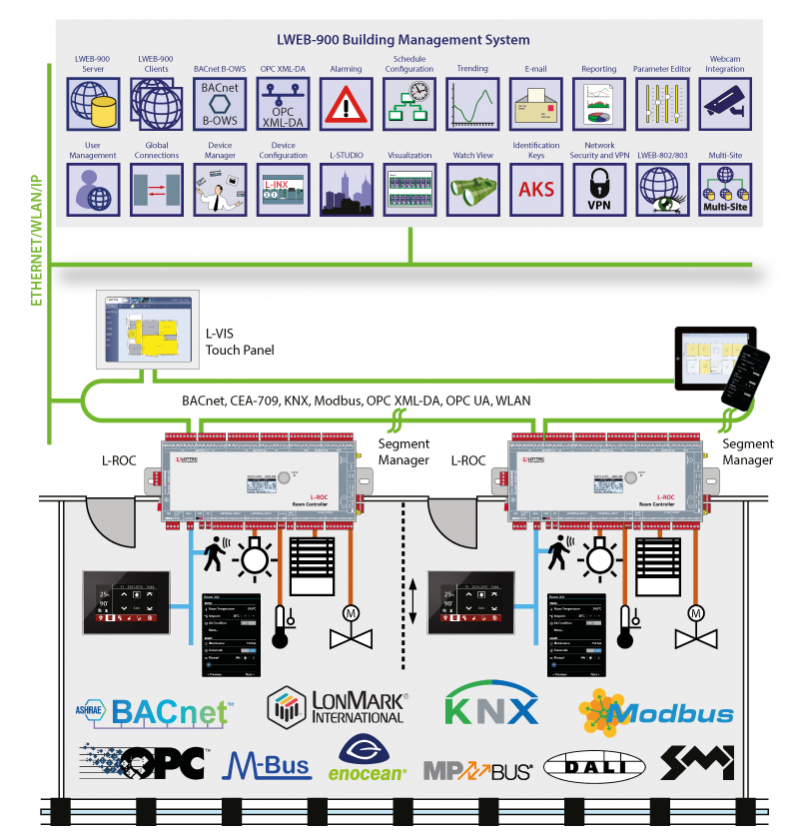 Features
Flexible built-in management for room segments
Room controller for up to 16 room segments
Networking via redundant or separated IP network
Programmable with L‑STUDIO (IEC 61499)
Extension with physical inputs and outputs using L‑IOB I/ O Modules (LIOB‑11x, LIOB‑15x, and LIOB‑45x/55x)
128x64 graphic display with backlight
Local display of device and data point information
Manual operation using the jog dial or VNC Client
Integrated AST™ functions (Alarming, Scheduling, and Trending) for each room segment
Node.js support for easy IoT integration (e.g. Google calendar, Alexa & friends, multimedia equipment,…)
Event-driven e-mail notification Math objects to execute mathematical operations on data points
Stores customized graphical pages
Visualization of customized graphical pages through LWEB‑900 (Building Management), LWEB‑803 (Monitoring and Control), or LWEB‑802 (Web Browser)
Support of the L‑STAT Room Operator Panel
Built-in OPC XML‑DA and OPC UA server
Dual Ethernet/ IP interface
Access to network statistics
Compliant with ANSI/ ASHRAE 135‑2012 and ISO 16484‑5:2012 standard
Supports BACnet MS/TP, BACnet/IP or BACnet/SC
BACnet Client Function (Write Property, Read Property, COV Subscription)
BACnet Client Configuration with configuration tool (scan and EDE import)
BACnet/ IP compliant with B-BC (BACnet Building Controller) functionality
Compliant with CEA‑709, CEA‑852, and ISO/ IEC 14908 Standard (LonMark System)
Connection of any CEA‑709 device via TP/ FT‑10 channel
CEA‑709 integration via LonMark IP‑852 (Ethernet/ IP) channel
Support of dynamically created or static NVs
Support of user-defined NVs (UNVTs) and Configuration Properties (SCPTs, UCPTs)
Integrated BACnet/ IP to BACnet/SC and BACnet MS/ TP Router including BBMD as well as Slave-Proxy functionality
Integrated IP‑852 to TP/FT‑10 Router
Connection to KNXnet/ IP directly, KNX TP1 via LKNX‑300 Interface
M‑Bus Master according to EN 13757‑3, connection via optional M‑Bus Converter (L‑MBUS20 or L‑MBUS80)
Gateway functions including Smart Auto-Connect™
Modbus TCP and Modbus RTU/ASCII (Master or Slave)
Integrated web server for device configuration and monitoring data points
Configurable via Ethernet/ IP
Connection to EnOcean wireless devices via LENO‑80x Interface
Supports WLAN through LWLAN‑800 Interface
Supports MP-Bus through LMPBUS-804 Interface
Supports SMI (Standard Motor Interface) through LSMI-80x
Supports LTE through LTE-800 Interface
Stores user-defined project documentation
L-ROC Room Automation - Video
LROC-102 Room Controller Products

---

LROC-102

L-ROC Room Controller for room segment, aisle, floor, building, or campus management

Start quote request
Documentation and Software

3D View


98372c84a4784c49b4066621b31cde1e

---

LROC-SEG8

License to add 8 segments to L-ROC controller

Start quote request
Documentation and Software


---

L-STUDIO
Device configuration and programming suite
Start quote request
Documentation and Software


---

LSTAT-80x-CUSTOM
One-time customization cost for L-STAT custom design, including 2 working samples
Start quote request
Documentation and Software


---

LIOB-A2

L‑IOB Adapter 2 to split the LIOB‑Connect bus using 4-wire cables

Start quote request
Documentation and Software

3D View


6270d50d08a74b69ab8be97bca242b29

---

LIOB-A4

L‑IOB Adapter 4 to split the LIOB‑Connect bus using RJ45 network cables

Start quote request
Documentation and Software

3D View


798babbffc92440b8bdb6445698fa381

---

LIOB-A5

L‑IOB Adapter 5 to terminate the LIOB-Connect bus

Start quote request
Documentation and Software

3D View


3923a39c788f4a42b55a246006327dc1

---

LIOB-100

LIOB-Connect I/O Module: 8 UI, 2 DI, 2 AO, 9 DO (5 x Relay 6 A, 4 x Triac 0.5 A)

Start quote request
Documentation and Software

3D View


a0bf19dfbe784dbaa9cd8f9cdb98c09d

---

LIOB-101

LIOB-Connect I/O Module: 8 UI, 16 DI

Start quote request
Documentation and Software

3D View


2f6e616c155041cdbe1aaa96984fb8f6

---

LIOB-102

LIOB-Connect I/O Module: 6 UI, 6 AO, 8 DO (8 x Relay 6 A)

Start quote request
Documentation and Software

3D View


f8d461e56b73471bb2bd3e989c647829

---

LIOB-103

LIOB-Connect I/O Module: 6 UI, 6 AO, 5 DO (5 x Relay 16 A)

Start quote request
Documentation and Software

3D View


3580ef64d7224d58b0b8df422b0e33aa

---

LIOB-110
LIOB-Connect I/O Module: 20 Universal I/O (IO)
Start quote request
Documentation and Software

3D View


fc37c4e2d8334dc9a4008a93fdeed68b

---

LIOB-112
LIOB‑Connect I/O Module: 40 Universal I/O (12 optionally with 4-20 mA Current Output)
Start quote request
Documentation and Software

3D View


a4c0124f6524494b937e4a77bdc9a9cf

---

LIOB-150

LIOB-FT I/O Module: 8 UI, 2 DI, 2 AO, 8 DO (4 x Relay 6 A, 4 x Triac 0.5 A)

Start quote request
Documentation and Software

3D View


e8af7c6b82b54b7f8dee3c61d3cb99d5

---

LIOB-151

LIOB-FT I/O Module: 8 UI, 12 DI

Start quote request
Documentation and Software

3D View


5589833098ec4e57ab8a09b1e6be3318

---

LIOB-152

LIOB-FT I/O Module: 6 UI, 6 AO, 8 DO (8 x Relay 6 A)

Start quote request
Documentation and Software

3D View


9e4a0bcbc7d54da0af20dd7f4d082862

---

LIOB-153

LIOB-FT I/O Module: 6 UI, 6 AO, 5 DO (4 x Relay 16 A, 1 x Relay 6 A)

Start quote request
Documentation and Software

3D View


ec9fdbf9b98f4c7e9a31b151785763bf

---

LIOB-154

LIOB-FT I/O Module: 7 UI, 4 AO, 7 DO (5 x Relay 6 A, 2 x Triac 0.5 A), 1 Pressure Sensor

Start quote request
Documentation and Software

3D View


e803e995b7c94953852eac4c8840d00c

---

LIOB-450

LIOB-IP852 I/O Module: 8 UI, 2 DI, 2 AO, 8 DO (4 x Relay 6 A, 4 x Triac 0.5 A)

Start quote request
Documentation and Software

3D View


25d3fded9d2c4c53b64d7615bada19f7

---

LIOB-451

LIOB-IP852 I/O Module: 8 UI, 12 DI

Start quote request
Documentation and Software

3D View


3c8677b55a714192848a0642ad12d81d

---

LIOB-452

LIOB-IP852 I/O Module: 6 UI, 6 AO, 8 DO (8 x Relay 6 A)

Start quote request
Documentation and Software

3D View


d806ef3909104ac9af56af181171e710

---

LIOB-453

LIOB-IP852 I/O Module: 6 UI, 6 AO, 5 DO (4 x Relay 16 A, 1 x Relay 6 A)

Start quote request
Documentation and Software

3D View


abcfc60dd47349cca6e88c6f1bd85bb8

---

LIOB-454

LIOB-IP852 I/O Module: 7 UI, 4 AO, 7 DO (5 x Relay 6 A, 2 x Triac 0.5 A), 1 Pressure Sensor

Start quote request
Documentation and Software

3D View


4222af0f977e4d879f1e1ea511ab8e9d

---

LIOB-550

LIOB-BIP I/O Module: 8 UI, 2 DI, 2 AO, 8 DO (4 x Relay 6 A, 4 x Triac 0.5 A)

Start quote request
Documentation and Software

3D View


e3cb2c23d25743a9a5e08e738e4d98b4

---

LIOB-551

LIOB-BIP I/O Module: 8 UI, 12 DI

Start quote request
Documentation and Software

3D View


67b4415097fe4bf58d9e7b2d72bf072a

---

LIOB-552

LIOB-BIP I/O Module: 6 UI, 6 AO, 8 DO (8 x Relay 6 A)

Start quote request
Documentation and Software

3D View


cba6222b52144860962d4b206cb02b6f

---

LIOB-553

LIOB-BIP I/O Module: 6 UI, 6 AO, 5 DO (4 x Relay 16 A, 1 x Relay 6 A)

Start quote request
Documentation and Software

3D View


0ec3f981082f4d0d8a1cf9d4d0bc45c7

---

LIOB-554

LIOB-BIP I/O Module: 7 UI, 4 AO, 7 DO (5 x Relay 6 A, 2 x Triac 0.5 A), 1 Pressure Sensor

Start quote request
Documentation and Software

3D View


040798d7f41f4f51aac750c642a2d4fc

---

LPOW-2415A

LIOB-Connect Power Supply, 24 VDC, 15 W

Start quote request
Documentation and Software

3D View


bf6ff2e52c15478091e6b057aec2452c

---

LPOW-2415B

Power supply unit with power connector 24 VDC, 15 W

Start quote request
Documentation and Software

3D View


c2eacbb15ec04078becb106cf02fe7ed

---

LSMI-800
Standard Motor Interface for 16 motors via EXT port
Start quote request
Documentation and Software

3D View


f73b956efe9a42ae92a66c4a2c2e953a

---

L-MBUS20

M-Bus level converter, interface for 20 M-Bus devices

Start quote request
Documentation and Software

3D View


e652d00e44a64759a08508e069015c22

---

L-MBUS80
M-Bus Level Converter, Interface for up to 80 M-Bus devices
Start quote request
Documentation and Software

3D View


d0a18d275fe64135826638032b3223e9

---

LKNX-300

KNX interface to connect KNX TP1 devices

Start quote request
Documentation and Software

3D View


1a43e3eb71ca4d23b4e22a6805dd2bd9

---

LENO-800

EnOcean Interface 868 MHz Europe

Start quote request
Documentation and Software

3D View


3388466f6f1d45adb75659c84b6eae7c

---

LENO-801
EnOcean Interface 902 MHz USA/Canada
Start quote request
Documentation and Software

3D View


eb7530e32b764531af31f5221b303fc3

---

LENO-802

EnOcean Interface 928 MHz Japan

Start quote request
Documentation and Software

3D View


b35cd07b9a2c4caea8708199d97d7a84

---

LWLAN-800

Wireless LAN Interface IEEE 802.11bgn

Start quote request
Documentation and Software

3D View


0cbc0ae8402248c6978a6b1769a2844b

---

LRS232-802
USB to 2x RS-232 Interface
Start quote request
Documentation and Software

3D View


ae11a764f6c34a4eabd563f46bfd1ea1

---

LBOX-600

L-BOX System Distribution Box for room automation components, 600 x 250 x 82 (L x W x H in mm)

Start quote request
Documentation and Software

3D View


1f92f6b2c8654ec3985007c312ec8ff5

---

LSTAT-810-G3-L0
Remote EnOcean Antenna, Europe, White
Start quote request
Documentation and Software

3D View


0c52a1a4c8004ddea28a226b973942ae

---

LSTAT-820-G3-L0
Remote EnOcean Antenna, USA/CA, White
Start quote request
Documentation and Software

3D View


001b831d79d54d23aa3e410eba58c917

---

LSTAT-830-G3-L0
Remote EnOcean Antenna, Japan, White
Start quote request
Documentation and Software

3D View


2d927f28446a46128e72557819d12100