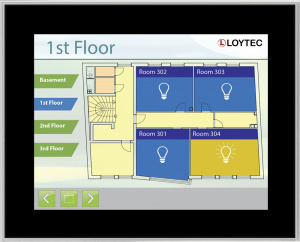 Powerful visualization, reporting, and alarming features make operating a building equipped with a LOYTEC lighting system a charm. Features include failure reporting and run hours monitoring, enabling optimized maintenance cycle planning and energy usage calculation, and reporting for energy usage benchmarking. Highly flexible visualization features allow displaying the state of the system, comfortably changing system parameters, control strategies, and schedules. This is important to react to changes in a room's usage or to optimize the lighting system in terms of energy usage and user comfort. Alarms generated by the system can be displayed in the SCADA system front end or sent by e-mail. Any system data can be trended and kept for later analysis and to generate reports.
LOYTEC offers various visualization solutions, starting with an L-VIS touch panel or an LWEB-802 web-based visualization to monitor smaller systems like e.g. a small school. In contrast, the top end is marked by LWEB-900, a scalable, server based, multi-client capable, fully grown SCADA and BMS system software for larger installations. Or you can have your own choice of SCADA system software by any other vendor. LOYTEC's use of open communication standards allow for easy integration into any other renowned system on the market.
Powerful backup and restore functions on every level ensure high availability of the system. Once a broken component is physically replaced, the configuration of the device will be automatically restored with the last known backup. This ensures such maintenance tasks can be executed without the need for skilled technicians to come on site.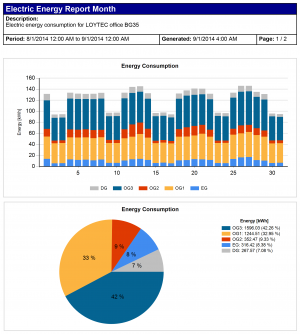 When it comes to reconfiguration, LOYTEC's L-ROC system even allows moving walls on the fly. After the physical walls have been moved, the automation system is informed of the new layout of the rooms. As a result, all functions controlled by the system are automatically reconfigured according to the changed situations. A revolutionary approach unmatched by any other vendor on the market.
Typical applications:
Office building
Public building
School
Parking lot
Shopping center
Sports arena
Hotel
Products: