L‑DALI Controllers are multifunctional devices combining constant light control, sunblind control, and gateway functions between LonMark and DALI (Digital Addressable Lighting Interface) systems. With Alarming, Scheduling, Trending, and e-mail notification (AST™) the L‑DALI Controller is a perfect solution for DALI lighting systems and for a smooth DALI integration into LonMark Systems.
DALI Network Interface
L-DALI Controllers act as a DALI-Master in the DALI network and can interact with DALI-2 multi-sensors and buttons in Multi-Master mode.The L-DALI lineup for LonMark Systems features 1, 2, or 4 independent DALI channels. Up to 64 DALI or DALI-2 based luminaries per DALI channel can be controlled individually or via 16 groups. All luminaries are monitored for lamp or ballast defect. In addition up to 64 DALI-2 input devices are supported per DALI channel. Each input device can be equipped with push buttons, sliders, occupancy and light sensors.
Built-In DALI Bus Power Supply
All L-DALI models come with a built-in DALI bus power supply. The LDALI-3E101-U and the LDALI-3E102-U can supply each DALI channel with a guaranteed supply current of 230 mA, the LDALI-3E104-U can supply 116 mA per channel. In case of the LDALI-3E104-U an external DALI bus power supply can be added to top up the supply current to 232 mA. External power supplies are available for up to four DALI channels. The internal DALI bus power can be switched on and off via web interface or LCD UI. Thanks to the switching power supply, these devices can handle input voltages from 85 – 240 V AC, 50/60 Hz.
LonMark TP/FT‑10 or Ethernet/IP‑852 Connection
The L‑DALI Controllers provide connectivity in LonMark Systems through IP‑852, or TP/FT‑10 as well as data exchange through Global Connections. They support comprehensive AST™ functionality (Alarming, Scheduling, and Trending) with e‑mail notification. Full L‑WEB integration is supported as well. The L‑DALI Controllers are equipped with two Ethernet ports including a built-in Ethernet switch.
IoT Integration
The IoT function (Node.js) allows connecting the system to almost any cloud service, either for uploading historical data to analytics services, delivering alarm messages to alarm processing services or operating parts of the control system over a cloud service (e.g., scheduling based on Web calendars or booking systems). Processing Internet information such as weather data in forecast-based control is also possible. Finally, the JavaScript kernel also allows implementing serial protocols to non-standard equipment.
Local Operation and Override
The L‑DALI Controllers come with a built-in backlit display (128x64) and a jog dial for local operation and override. Using the local operation, maintenance tasks (DALI device replacement, burn-in mode, etc.) can be executed without the need of any software tool.
Constant Light Control
The integrated Constant Light Controller (LonMark Functional Profile #3050) allows controlling local DALI ballasts and luminaires via the CEA‑709 network. It supports various lighting control strategies, presence and lux level based. Several parameters can be used to configure the Constant Light Controller for almost any use case.
Sunblind Control with Constant Light Control Interaction
The integrated Sunblind Controller (LonMark Functional Profile #6111) allows intelligent controlling of blinds connected via SMI (requires LSMI-804) or the CEA‑709 network. It offers effective sun and anti-glare protection through active slat control and slat adjustment according to the sun position. Energy efficiency is ensured by linking room occupancy with sun protection. If a room is unoccupied, the L‑DALI Controller opens or closes the sunblinds depending on the thermal requirements. This allows for instance to use the heat of the sun for heating in winter while in summer, the heat from the sun is reduced by the closed blinds to reduce the cooling load.
Optionally, the sunblind and light control applications of a room or an area can be linked together. As both applications control the light available in the room this holistic approach assures maximum comfort and energy efficiency.
In addition to the constant light and sunblind control, any mathematical calculation and function or logical operation (Boolean algebra) can be created on the device and process all available data points.
Device Configuration via Tool or Web Interface
The device configuration, commissioning, and parameterization is done either with the configuration tool software (used as stand-alone tool or as LNS® plug-in) or via the integrated web server.
EnOcean, OPC and Modbus
Wireless EnOcean sensors and buttons can be integrated via the optional L‑ENO EnOcean interface. To use the L‑DALI with an existing SCADA solution all runtime values and parameters can be accessed via OPC (XML/DA and UA) and Modbus TCP.
Advanced DALI Functions
DALI Sensors
The L‑DALI Controllers support the integration of DALI-2 multi-sensors for presence detection and light level recognition. In addition to the LOYTEC DALI-2 multi-sensor LDALI‑MS2/MS2-BT/MS4-BT, DALI-2 sensors of many wellknown manufacturers can be used.
DALI Buttons
For manual operation, DALI-2 push button couplers, like the LDALI-BM2, DALI-2 operation panels, and IR remote controls can be integrated into the system. Their functionality can be configured individually. In addition to controlling lighting via DALI (dimming, scene recall, etc.) and sunblinds via SMI (up, down, etc.), button press events can be propagated in the building network, triggering other, non-lighting related building automation functions. Support of feedback feature for pushbutton instances according to IEC 62386-332 is provided.
DALI Relay Modules
Standard loads in the power grid can be controlled via DALI using DALI relay modules, like the LDALI-RM3, LDALI-RM4 and LDALI-RM8.
DALI Color Control
The L-DALI allows controlling DALI luminaires with colour control functionality (DT8). Both, tunable white (Tc) and full RGB color control (RGBWAF and xycoordinate) are supported. Light color can either be changed automatically, via manual operation (e.g. buttons) or via the network.
Auto Burn-In for Fluorescent Lamps
Fluorescent lamps must be operated about 100 hours with 100 % brightness before they may be dimmed. This burn-in process is monitored by L‑DALI for each lamp. After 100 hours burn-in time, the lamp's constant light control is enabled.
Automatic Test of Emergency Lighting Systems
In DALI emergency lighting systems based on IEC 62386-202, L-DALI can be used for testing the system. The results can be logged.
Collection of important Operational Parameters
For maximum transparency in the lighting system, L‑DALI can record the operating hours of each lamp and also the energy consumption (calculated).
DALI Device Replacement made easy
Defective DALI ballasts can easily be replaced directly on the L‑DALI Controller (LCD and jog dial) or via the web interface. No software tool is necessary.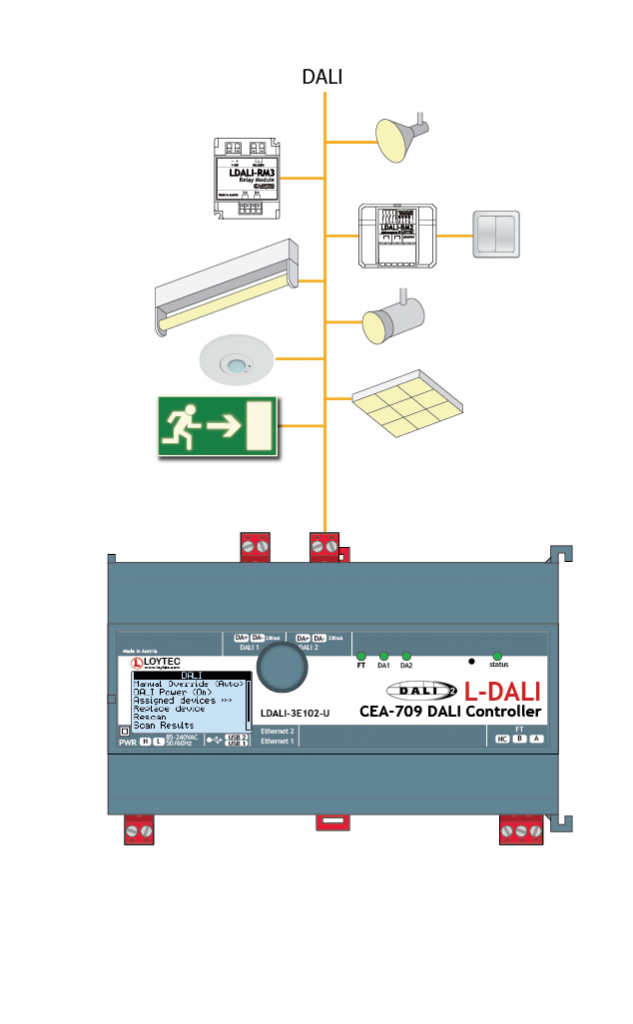 LonMark Interface
The L-DALI Controller maps information from the DALI network to Network Variables (NVs) to control DALI ballasts or display operating states including DALI sensor occupancy and lux level information. L-DALI Controller for LonMark Systems can be connected either to an Ethernet/IP channel (LonMark IP-852) or a TP/FT 10 channel. The provided static NV interface includes the following profiles:
Lamp Actuator #3040
Light Sensor #1010
Occupancy Sensor #1060
Constant Light Controller #3050
Sunblind Controller #6111
Open Loop Sensor (button) #1
All data points are available in a tree structure on the integrated web server to be displayed or set using a web browser.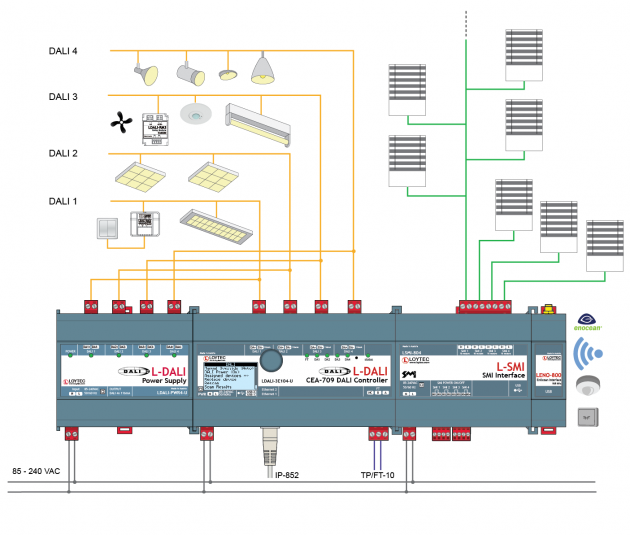 Features
DALI integration into LonMark Systems
Supports up to 64 DALI ballasts and 16 DALI groups per DALI channel
Supports up to 64 input devices overall per channel
Up to 16 DALI sensors per DALI channel are supported
Up to 64 DALI button modules per DALI channel are supported
Integrated DALI bus power supply
Manual operation using the jog dial and local access to information about device status and data points in clear text and symbols
128x64 graphic display with backlight
Built-in web server for device configuration
Test and assignment of DALI devices via the web interface
Replacement of DALI devices without additional software tools via LCD and jog dial
Supports the control of standard loads in the power grid via LDALI-RM3 Relay Modules
Integrated Constant Light Controller
Integrated Sunblind Controller
Supports DALI-2 devices (drivers and input devices)

DALI‑2 certified (compliant with IEC 62386‑101 and IEC 62386‑103)

Support DALI color control (DT8 tunable white & full color control)
Supports lamp burn-in mode
Supports periodic testing of DALI emergency lights
Integrated DALI Protocol Analyzer
Compliant with CEA‑709, CEA‑852 and ISO/IEC 14908-1 standard (LonMark System)
Network connection either with TP/FT‑10 or IP‑852 (CEA‑852 Ethernet)
Alarming, Scheduling, and Trending (AST™) locally or embedded in L‑WEB (building management)
Node.js support for easy IoT integration (e.g. Google calendar, Alexa & friends, multimedia equipment,…)
Event-driven e-mail notification
Supports Local and Global Connections
Stores customized graphical pages
Visualization of customized graphical pages through LWEB‑900 (building Management), LWEB‑803 (Monitoring and Control), or LWEB‑802 (Web Browser)
Stores user-defined project documentation
Dual Ethernet/IP interface
Built-in OPC XML‑DA and OPC UA server
Modbus TCP (Master or Slave)
Supports SMI (Standard Motor Interface) through LSMI-804
Connection to EnOcean wireless devices via LENO‑80x Interface Supports WLAN through LWLAN‑800 Interface
Supports LTE through LTE‑800 Interface
Configurable Bluetooth beacons and services: indoor navigation, asset tracking (requires LIC-ASSET license) and access to LWEB-900 room control solution
Tutorials
L-DALI 7.4 Release Tutorial - Features of the new DALI Release
This video provides a detailed overview on the new features of the latest firmware release.
Features of L-INX 8.0 Release
This video presents several features of the new firmware release.
L-DALI: CEA-709/DALI Controllers Products

---

LDALI-3E101-U
CEA‑709/DALI Controller for IP-852 (Ethernet), 1 DALI channel, integrated DALI power supply
Start quote request
Documentation and Software

3D View


a220da23eda347d7947198c25d263fcd

---

LDALI-3E102-U
CEA‑709/DALI Controller for IP-852 (Ethernet), 2 DALI channels, integrated DALI power supply
Start quote request
Documentation and Software

3D View


5d02a7c5a6804ab8a9270ce2be64d68a

---

LDALI-3E104-U
CEA‑709/DALI Controller for IP-852 (Ethernet), 4 DALI channels, integrated DALI power supply
Start quote request
Documentation and Software

3D View


7c63e2d1fcdc4684914ecfcfba188b33

---

LIC-ASSET
LIC-ASSET, Add-on Software License to activate asset tracking (for LDALI-ME20x-U, LDALI-3E10x-U, LDALI-PLCx, LROC-400, LROC-401, LIOB-AIR20, LIOB-591)
Start quote request
Documentation and Software


---

LDALI-PWR1-U
DALI Power Supply for 1 DALI channel, 50mA (expected availability Q4 2023)
Start quote request
Documentation and Software

3D View


84e5314975fa40b59c533287103fe3b6

---

LDALI-PWR2-U

DALI-2 power supply, 85-240 V, 50/60 Hz, Output: 2 x 16 VDC, 116 mA (DALI bus)

Start quote request
Documentation and Software

3D View


1a3fb79ef58a4f3ea0a0dbbab4c9c681

---

LDALI-PWR4-U

DALI-2 power supply, 85-240 V, 50/60 Hz, Output: 4 x 16 VDC, 116 mA (DALI bus)

Start quote request
Documentation and Software

3D View


9445d5b1dc52489ba19c592e7706714e

---

LDALI-MS2-BT
DALI-2 multi-sensor (presence detection, illuminance sensor, IR receiver, temperature sensor, humidity sensor, 3 digital inputs, Bluetooth), up to 12 m mounting height
Start quote request
Documentation and Software

3D View


db516c3ddb4b4c978619b4a5ca49cf48

---

LDALI-MS4-BT
DALI multi-sensor (presence detection, illuminance sensor, IR receiver, temperature sensor, humidity sensor, 3 digital inputs, Bluetooth, flat lens), up to 5 m mounting height
Start quote request
Documentation and Software

3D View


b91ded5a0eea4cfeb7f4fc638c10ad8c

---

L-RC1

Infrared remote control for room automation applications

Start quote request
Documentation and Software

3D View


65a3b003728e44afbf4adc347f1956dc

---

LDALI-BM2

Quadruple DALI pushbutton coupler

Start quote request
Documentation and Software

3D View


0768a231cae84dbc8a89ed672fcc2aa3

---

LDALI-RM5
DALI Relay Module 10 A, Analog Interface 1 – 10 V
Start quote request
Documentation and Software

3D View


b67a05de94b549b88a75ee75a261c5ca

---

LDALI-RM6
DALI Relay Module 10 A, Analog Interface 1 – 10 V, "spud-mount"
Start quote request
Documentation and Software

3D View


4c777290ae6a47cba308ced70d41397c

---

LDALI-RM8

DALI Relay Modul, 8 channel

Start quote request
Documentation and Software

3D View


63c2b999846f45439ef9d69a5b6fe952

---

LSMI-804
Standard Motor Interface for 64 motors, 4 SMI channels via USB
Start quote request
Documentation and Software

3D View


da0579f69819419a9be87274db8907d0

---

LWLAN-800

Wireless LAN Interface IEEE 802.11bgn

Start quote request
Documentation and Software

3D View


0cbc0ae8402248c6978a6b1769a2844b

---

LENO-800

EnOcean Interface 868 MHz Europe

Start quote request
Documentation and Software

3D View


3388466f6f1d45adb75659c84b6eae7c

---

LENO-801
EnOcean Interface 902 MHz USA/Canada
Start quote request
Documentation and Software

3D View


eb7530e32b764531af31f5221b303fc3

---

LENO-802

EnOcean Interface 928 MHz Japan

Start quote request
Documentation and Software

3D View


b35cd07b9a2c4caea8708199d97d7a84

---

LTE-800

LTE Interface

Start quote request
Documentation and Software

3D View


58bb622cb29e45c1a28a9cd40a0e8603

---

LDALI-PD1
DALI Phase-Cut Dimmer Module
Start quote request
Documentation and Software

3D View


e04904a9fe7c4ab5b93502610d764b42

---

LDALI-PWM4
PWM module, DALI, 4 x 3 A LED outputs, 24 V DC ext.
Start quote request
Documentation and Software

3D View


2e01b229b46a437da3496b21a88f0510

---

LDALI-PWM4-RGBW
PWM module RGBW, DALI, 4 x 3 A LED outputs, 24 V DC ext.
Start quote request
Documentation and Software

3D View


2e01b229b46a437da3496b21a88f0510

---

LDALI-PWM4-TC
PWM module tunable white, DALI, 4 x 3 A LED outputs, 24 V DC ext.
Start quote request
Documentation and Software

3D View


2e01b229b46a437da3496b21a88f0510

---

LDALI-PWM8
LDALI‑PWM8 PWM module, DALI, 8 x 0.5 A LED outputs, 24 V DC ext. (expected availability Q4 2023)
Start quote request
Documentation and Software

3D View


d0a481bd4dee4a8e88cb8f4fc1687135

---

LDALI-PWM8-RGBW
LDALI-PWM8-RGBW PWM module RGBW, DALI, 8 x 0.5 A LED outputs, 24 V DC ext. (expected availability Q4 2023)
Start quote request
Documentation and Software

3D View


d0a481bd4dee4a8e88cb8f4fc1687135

---

LDALI-PWM8-TC
LDALI-PWM8-TC PWM module tunable white, DALI, 8 x 0.5 A LED outputs, 24 V DC ext. (expected availability Q4 2023)
Start quote request
Documentation and Software

3D View


d0a481bd4dee4a8e88cb8f4fc1687135