The LIOB-45x Modules are LonMark certified and communicate over Ethernet/IP-852 in the LonMark System. They provide up to 512 address table entries (ECS mode) which eliminates all binding restrictions.
LonMark IP-852 Channel over Ethernet
The LIOB-45x I/O Modules are equipped with two Ethernet ports including a built-in Ethernet switch. This allows for building a daisy chained line topology of up to 20 devices, which reduces costs for network installation. Dual Ethernet port devices also allow the setup of a redundant Ethernet installation (ring topology), which increases reliability. The redundant Ethernet topology is enabled by the Rapid Spanning Tree Protocol (RSTP), which is supported by most managed switches.
The LIOB-45x Modules are equipped with a Web interface to query the device status. The local display can be accessed via VNC.
LIOB-IP Mode
The LIOB‑45x Modules can be switched to LIOB‑IP mode using manual local operation. In LIOB‑IP mode, the LIOB‑45x Modules extend L‑INX Automation Servers, L‑ROC Room Controllers, L-IOB I/O Controllers and LIOB-AIR I/O Controllers with physical inputs and outputs via plug and play.
Local Operation and Override
All L-IOB I/O Modules are equipped with an LCD display (128x64) with backlight and jog dial for manual local operation. Device and data point information is displayed in text form and via graphical symbols.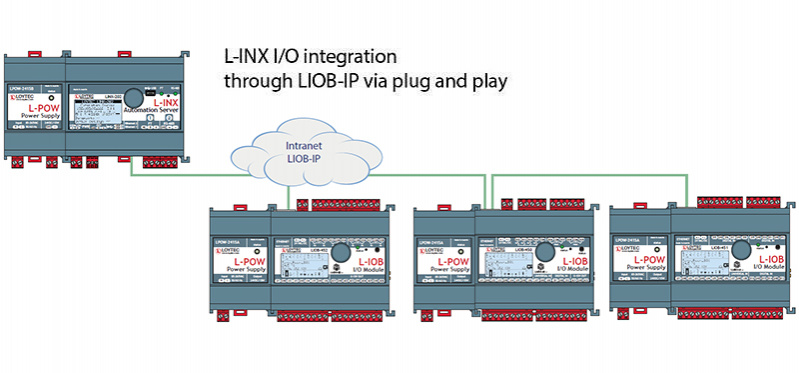 Features
I/O module with physical inputs and outputs
Ethernet/IP network interface
SNVT-based interface for integration on the LonMark IP-852 channel
LonMark certified
Up to 512 address table entries (ECS mode)
Manual operation using the jog dial
128x64 graphic display with backlight
Local access to information about device status and data points in clear text and symbols
Connected to the L‑INX Automation Server, L‑ROC Room Controller, L-IOB I/O Controller, and LIOB-AIR I/O Controller via LIOB‑IP
Automatic integration into device configurations with L‑INX, L‑ROC, L-IOB I/O Controller, and LIOB-AIR
Easy device replacement without any additional software
Integrated Web server for the device configuration
LNS plug‑in for the device configuration in the LonMark System
LIOB-IP852 I/O Modules LonMark Products

---

LIOB-450

LIOB-IP852 I/O Module: 8 UI, 2 DI, 2 AO, 8 DO (4 x Relay 6 A, 4 x Triac 0.5 A)

Start quote request
Documentation and Software

3D View


25d3fded9d2c4c53b64d7615bada19f7

---

LIOB-451

LIOB-IP852 I/O Module: 8 UI, 12 DI

Start quote request
Documentation and Software

3D View


3c8677b55a714192848a0642ad12d81d

---

LIOB-452

LIOB-IP852 I/O Module: 6 UI, 6 AO, 8 DO (8 x Relay 6 A)

Start quote request
Documentation and Software

3D View


d806ef3909104ac9af56af181171e710

---

LIOB-453

LIOB-IP852 I/O Module: 6 UI, 6 AO, 5 DO (4 x Relay 16 A, 1 x Relay 6 A)

Start quote request
Documentation and Software

3D View


abcfc60dd47349cca6e88c6f1bd85bb8

---

LIOB-454

LIOB-IP852 I/O Module: 7 UI, 4 AO, 7 DO (5 x Relay 6 A, 2 x Triac 0.5 A), 1 Pressure Sensor

Start quote request
Documentation and Software

3D View


4222af0f977e4d879f1e1ea511ab8e9d

---

LPOW-2415A

LIOB-Connect Power Supply, 24 VDC, 15 W

Start quote request
Documentation and Software

3D View


bf6ff2e52c15478091e6b057aec2452c

---

LPOW-2415B

Power supply unit with power connector 24 VDC, 15 W

Start quote request
Documentation and Software

3D View


c2eacbb15ec04078becb106cf02fe7ed

---

L-TEMP2
External temperature sensor (NTC10K) for use with L-IOB Universal Inputs
Start quote request
Documentation and Software