LOYTEC NICs are the most universal network interfaces for CEA‑709 and IP-852 (Ethernet/‌IP) channels. Based on LOYTEC's Core Technologies, they offer high packet rates and short response times. All NICs are fully compatible with products like NL220, ALEX, LonMaker®, and other LNS® applications. The NICs are also compatible with NodeUtil32, NLUtil, OPC servers, and high performance ORION applications.
The multiplexed network interface (MNI) support allows starting multiple LNS® or MIP applications to run in parallel with an LPA on a single network interface.
The built-in VPN function provides for simple VPN setup and secure access to remote sites. The LTE-800 interface enables wireless access to remote sites through a mobile carrier.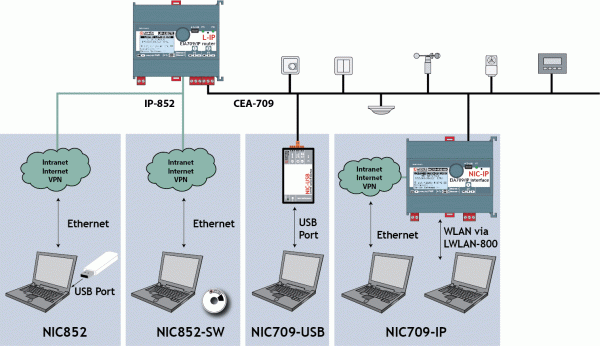 Features
Network interface for TP/FT‑10, TP/XF‑1250, RS485, and Ethernet/IP (IP‑852) channels
Available for USB and Ethernet port
Create up to eight network nodes with a single network interface (MNI devices)
Use the LPA, LSD Tool, your ORION applications, MIP applications, and LNS® (VNI) applications on a single network interface at the same time
Compatible with BMS e.g. Honeywell EBI, TAC VISTA, etc.
Compatible with LNS® applications in high performance VNI™ mode e.g. NL220, NLFacilities, NLOPC-VNI, ALEX, LonMaker®, etc.
Compatible with MIP applications (LDV interface) e.g. NodeUtil32, NLUtil, NLOPC-MIP, Honeywell CARE 5/7, etc.
Compatible with high performance ORION applications (ORION API)
NIC852 is fully compatible with L-IP and i.LON® 600 Internet routers
Use legacy MIP applications together with the IP‑852 (Ethernet) channel
With dual Ethernet, switched or separated (only NIC709‑IP3E100C, NIC709‑IP1E100C)
Supports WLAN with LWLAN‑800 Interface (only NIC709‑IP3E100C, NIC709‑IP1E100C)
Supports LTE with LTE‑800 Interface (only NIC709‑IP3E100C, NIC709‑IP1E100C)
Runs on Windows 10, Windows Server 2012, Windows Server 2016, Windows Server 2019
NIC Products

---

NIC709-USB100

USB-Interface, connects to the USB port of a PC, supports LonMark TP/FT-10, TP/XF-1250, and TP/RS-485

Start quote request
Documentation and Software

3D View


2c20226f0ca24b3696bf7c8bc28a1422

---

NIC709-IP1E100C

Remote network interface (RNI), PC connection via Ethernet/IP, Supports a LonMark TP/XF-1250 channel

Start quote request
Documentation and Software

3D View


5862b5dcab064c79b93d3f8233fab4e3

---

NIC709-IP3E100C

Successor of NIC709-IP3E100, Remote network interface (RNI), PC connection via Ethernet/IP, Supports a LonMark TP/FT-10 channel

Start quote request
Documentation and Software

3D View


6a222f5b30184d9fbcd57bb5359a7ed2

---

NIC852

Floating licence via USB hardlock key, uses Ethernet port of PC to connect to a LonMark IP-852 channel

Start quote request
Documentation and Software

3D View


5374e9f8d7fd439aac6c2eee5ad284ab

---

NIC852-SW

Software license, Software activation with costs for one PC, uses Ethernet port of PC to connect to a LonMark IP-852 channel

Start quote request
Documentation and Software


---

LPOW-2415B

Power supply unit with power connector 24 VDC, 15 W

Start quote request
Documentation and Software

3D View


c2eacbb15ec04078becb106cf02fe7ed

---

LWLAN-800

Wireless LAN Interface IEEE 802.11bgn

Start quote request
Documentation and Software

3D View


0cbc0ae8402248c6978a6b1769a2844b

---

LT-03

Network terminator for 1 x TP/FT-10 or TP/LPT-10 (bus or free topology), 1 x Network Access Connector RJ45

Start quote request
Documentation and Software

3D View


d8e984a5753d4a1288876d9dd410dd88

---

LT-13

Network terminator for: 1 x TP/FT-10 or TP/LPT-10 (bus or free topology), 1 x TP/XF-1250 (bus toplogy only)

Start quote request
Documentation and Software

3D View


d92d7931d00f4b1f977e19c216da8e25

---

LT-33

Network terminator for 2 x TP/FT-10 or TP/LPT-10 (bus or free topology)

Start quote request
Documentation and Software

3D View


a414f125d4354bf2813de3255eb03046