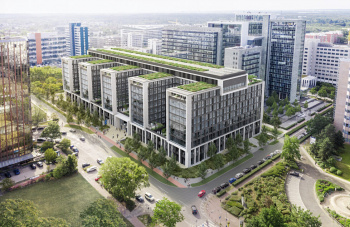 Solutions: L-ROC Room Automation, HVAC

The EWS24 building was built by the project developer "Lang & Cie. Real Estate AG" and leased completely to one user. LOYTEC partner "Otto Building Technologies" executed the entire building automation for the project.
Shading, Lighting and Indoor Climate Control with L-ROC
The LROC-400 Room Controller is used for room automation. L-ROC automatically and intelligently controls all trades in the rooms (up to 8 segments). This includes the trades shading, located outside for all blinds, as well as indoors (only meeting rooms on the 1st floor) via the SMI bus system. The lighting system and the multi-sensors were integrated via L-ROC using the DALI bus system and the indoor climate control via the heated/cooling ceilings with 6-way valve using Modbus.
Room Operation via L-STAT and L-PAD
The room control in the office rooms is carried out via L-STAT room control units (Modbus), which operate the room automation integrally and individually. In the meeting rooms, LPAD-7 Touch Panels are available for room control (operated with a 24V supply). The building will be certified with at least DGNB Gold.
L-ROC Room Automation Impresses
Dirk Thomzik, project manager at Otto Building Technologies, and Julian Orthues, site manager at Otto Building Technologies, are impressed by the features of LOYTEC's L-ROC room automation solution, such as:
A variety of communication protocols as well as excellent price-performance ratio
Axis flexibility to meet changes in use - tenant requests can be implemented via browser without programming costs.
Simple cabling concepts available
Good overall implementation and consistency of the products
Conclusion
The EWS24 office building is an impressive, state-of-the-art facility that delights both owners and tenants. The L-ROC room automation system from LOYTEC offers outstanding technology at an excellent price-performance ratio. Together with the high-quality LPAD-7 Touch Panel, the foundations have been laid for a successful DGNB Gold Certification.
---
Interesting Facts
Products: L-ROC Room Controller, L-PAD Touch Panels, L-STAT Room Operator Panel, LDALI-MS4-BT Multi-sensor, L-WEB Building Management
Location
Lyoner Straße 13, Frankfurt/Main, Germany
Number of Nodes
61 200 Datapoints
Topology
BACnet/IP, OPC, DALI, SMI, Modbus
Involved Companies
Owner, Project Development: Lang & Cie. Real Estate AG
Otto Building Technologies GmbH
LOYTEC electronics GmbH
LOYTEC Products
306 x LROC-400 Room Controller
306 x LBOX-ROC2 Distribution Boxes for LROC-40x
894 x LSTAT-800-G3-L4 Room Operation Units
2022 x LDALI-MS4-BT Multi-sensors
53 x LPAD7-30G2 Touch Panels
LOYTEC Tools
LWEB-900 Integrated Building Management System
L-STUDIO 3.0 Engineering Tool