Training goal
The training participant is able to configure and commission a DALI system and to use the integrated tools for troubleshooting. The L-DALI controllers can be integrated into the superior building control via gateway functions (LON or BACnet).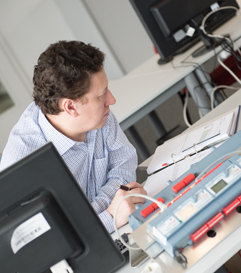 Target group
System integrators, lighting engineers
Contents
DALI basics
Overview of LOYTEC DALI devices
Commissioning of DALI networks
Working with web interface and configuration software
Functions of the programmable L-DALI controllers
Configuration of lighting controller functions (constant light control, presence control …)
Creation and retrieval of lighting scenarios
Configuration of schedulers, alarms, and trends
Troubleshooting
BACnet and CEA-709 interface on the L-DALI controller
Requirements
For understanding gateway functions: knowledge of BACnet and/or CEA-709
Recommended prior knowledge
Working with the L-INX Configurator (creation of data points …)
Handling of L-INX Configurator (LTRAIN-GATEWAYS)
Please follow this link to download the configuration software, manuals, and also demonstrative video tutorials for free. If you log in, you will get access to the entire download area.
Events for LTRAIN-LDALI Trainings
LOYTEC Headquarters in Vienna, Austria  —  Blumengasse 35, 1170 Vienna, Austria
LM Rotterdam, Netherlands  —  Vedotec B.V., Andries Copierhof 8, 3059 LM Rotterdam