Training goal
The training participant is able to create graphical projects for L-VIS touch displays and web based L-WEB visualizations according to customer specifications. Besides basic functions like displaying and operating data points, the user is also able to perform complex tasks with the help of action objects, triggers and math objects.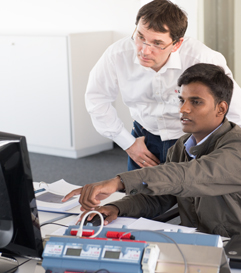 Target group
System integrators, plant programmers
Contents
Overview of L-VIS devices and L-WEB visualization
Creation of L-VIS projects
Use of different display controls
Creation of an L-WEB project
OPC communication in L-WEB
Project tests
Application scenarios for LWEB-802/803
Use of graphics library
Efficient project management using templates
Requirements
Good knowledge of one or more bus systems in building automation (CEA-709, BACnet, or Modbus). It is highly recommended to familiarize yourself with the programming tools – possibly by watching our video tutorials – ahead of the training. The required software tools can be downloaded free of charge from the LOYTEC website. The training focuses on creating more complex tasks and an efficient working.
Recommended prior knowledge
Creation of data points, Handling of L-INX Configurator (LTRAIN-GATEWAYS)
Handling of L-VIS Configurator
Please follow this link to download the configuration software, manuals, and also demonstrative video tutorials for free. If you log in, you will get access to the entire download area.
Events for LTRAIN-GRAPHICS Trainings
LOYTEC Headquarters in Vienna, Austria  —  Blumengasse 35, 1170 Vienna, Austria
Maintal, Germany  —  Robert-Bosch-Strasse 11, 63477 Maintal, Germany