Daylight harvesting – also referred to as constant light control – is a control strategy which controls the artificial light depending on the available natural light ensuring that the output level of the lamps is not higher than required to maintain the desired light level. This control strategy not only decreases energy usage significantly but also increases the comfort and well-being of the room's occupants. Changes from natural light to artificial light and vice versa are almost unnoticeable and a certain desired light level is always ensured.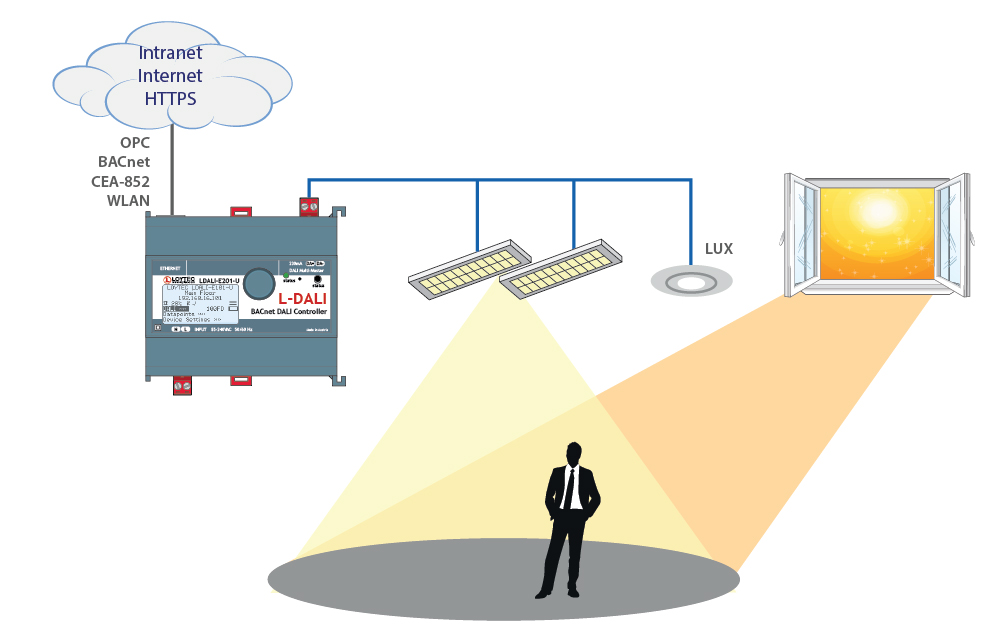 Optimum energy savings are achieved when combining daylight harvesting with presence control. Energy savings in such a scenario are typically between 40 % and 60 %. For this function dimmable lights are required. LOYTEC's and most other vendor's sensors provide presence and lux level information allowing implementation of this functionality without any additional cost.
Due to its standard interfaces to other automation systems, sunblinds can easily be integrated in this control strategy. On one hand this allows a better interaction and refinement of the two control strategies in general (e.g. to ignore temporary changes of the measured lux level due to blind movements) on the other hand, special applications can be realized: In museums or meeting rooms (during presentations), the light level in the room shall be kept within a certain range preventing too much lighting (to protect the art work or allow projections on a screen respectively) but still keep lights at a comfortable level.
In order to improve comfort even further, a combination of the following functions is available: daylight harvesting, sunblind control, and changing color temperatures.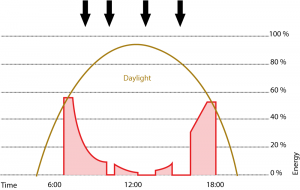 Typical applications:
Office
Open plan office
Single cell office
Classroom
Corridor and circulation areas
Supermarket
Meeting room
Canteen
Patient room
Distribution warehouse
Factory floor
Airport
Railway station
Products: