Certified Energy Efficiency and Quality
LOYTEC's Extension Building is Certified by eu.bac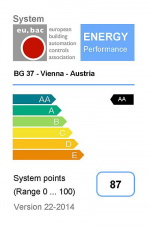 In summer 2013, the LOYTEC headquarters was extended by a new building complex that now serves as a new home e.g. for production. In the extension, the functions of heating/cooling, sunblind control, and lighting, have been fully automated by the L-ROC system that is specially designed for room automation. Thanks to the efficiency of the L-ROC system, LOYTEC received an eu.bac Certification Mark of the highest class AA with 87 out of 100 points for the new building in Vienna in March 2014.
The eu.bac system audit was introduced by eu.bac, the European Building Automation Controls Association, following different EU guidelines and national laws that demand the proof of energy efficiency of buildings.
The eu.bac Certification Mark and Energy Label assures users the conformity to products and systems, defined in the European guidelines and norms. Additionally, the registered eu.bac Cert Mark symbolizes energy efficiency and quality and is furthermore the European quality label for products in the field of building automation.
In course of the certification, all rooms together with their control features, the logic connections across rooms, as well as the energy flows were depicted in the system testing tool provided by eu.bac. According to this information, the energy efficiency of the building extension was classified, and finally awarded with the highest class AA.