Task:
A current installation includes KNX devices used for controlling sun blinds, lighting, valves of a chilled ceiling and for connecting dew-point sensors as well as window contacts at room level. In addition, KNX room operating units are installed in the rooms as well as KNX multi-sensors for presence detection and lux-level measurements. The task is to install a room automation system that integrates the subsystems heating/cooling, lighting, and sun blinds considering all standardized room automation functions according to VDI 3813. The system shall communicate with the already installed KNX devices and shall not only be flexible but also easy to use. The operator shall be able to change room configurations without any special training during runtime. Therefore, a floor plan shall be visualized for each floor. Via web browser or building management system, new room situations can then be created with just a few mouse clicks. For operating the room automation, each user shall be able to control his room via a virtual room control unit using his desktop PC. All important data points of room automation shall be available as BACnet/IP data points.
Solution:
The L-ROC room automation system together with the L-ROC Room Controller is the perfect solution for this task. Within the L-ROC system, a room segment is defined as the minimum unit. The following features are provided by one single L-ROC Room Controller for up to 16 room segments:
Lighting control including constant light controller
Sun blind control with sun tracking
Temperature control for heating, cooling and ventilation
Occupancy detection
Window monitoring
Scheduling
Alarming
Trending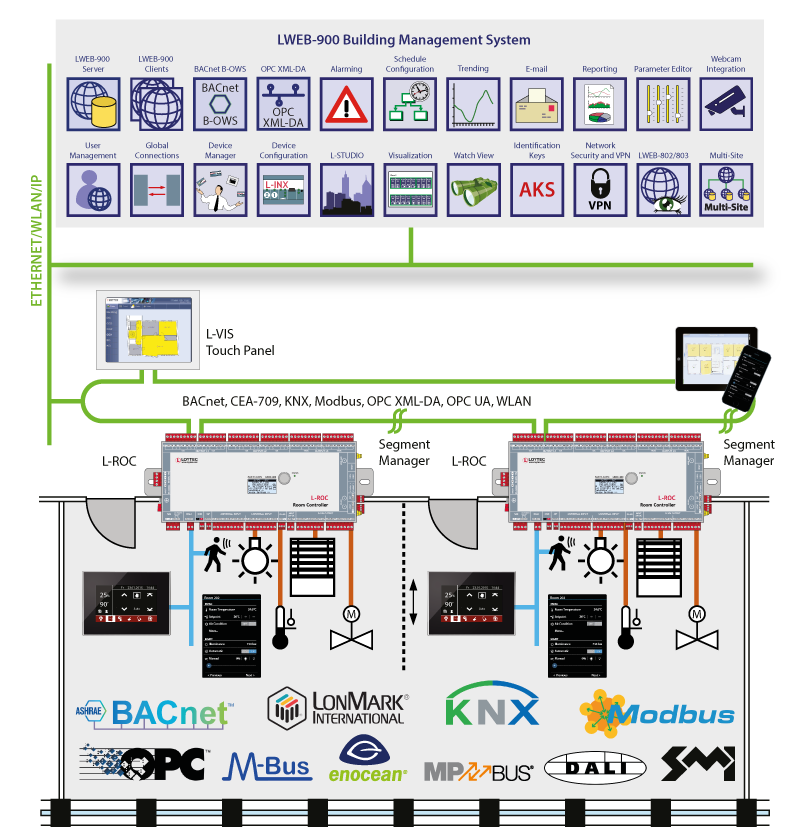 Within the L-ROC system, on each room controller an interface for KNX TP1 (via LKNX-300) and KNXnet/IP is available. On both interfaces, up to 1,000 KNX data points can be connected simultaneously. The types of KNX data points per segment that shall be available for the communication with KNX actuators and sensors are directly defined in the segment type through a special function block (so called "Service Function Blocks"). This can be freely programmed in L-STUDIO according to the respective requirements of the KNX participant.

The segment types receive besides all VDI3813 applications for lighting, sun blinds, room climate, and ventilation also all data points that are necessary for the communication with connected KNX devices. In the graphical configuration software L-STUDIO the L-ROC types are created using drag & drop. Each type can contain up to 16 instances of the segment types. The L-ROC types with the segments can then be used for area types with several L-ROC instances. Through instantiation of the area types, an entire floor type is created that now just needs to be instantiated as often as it appears in the building. It is important that the application for the entire room automation system and not only for an individual controller is created with L-STUDIO. We refer to this new automation concept as "Cloud Control".
The allocation of group addresses which is required for the final communication can be accomplished quickly and conveniently via the web interface of the respective L-ROC Room Controller.
Furthermore, graphical projects can be stored as visualization options for different applications directly in the segment type (e.g. virtual desktop room control unit and control elements for floor plan visualization). During configuration, segment-based visualizations can be easily created through drag&drop. These visualizations can be operated later via LWEB-803, LWEB-802, and/or LWEB-900.
All segments' information points are available as OPC data points and BACnet/IP server objects directly on the L-ROC Room Controller for direct connection to a building management system.
The L-ROC Room Controllers communicate among each other via 100Base-T Ethernet. Each L-ROC device is equipped with two Ethernet ports with an integrated Ethernet switch. For increased communication and reliability, the L-ROC Room Controllers can be operated in an Ethernet ring. A ring topology of up to 25 L-ROC devices, automating together up to 400 room segments, can be built. The Ethernet ring is connected at each end to an Ethernet switch with RSTP (Rapid Spanning Tree Protocol) function. The Ethernet switch with RSTP support ensures that communication is still maintained even in case of an interruption of the Ethernet network in the ring. In addition, it is also possible to configure both Ethernet ports of the L-ROC device in separate networks in order to guarantee for example the separation of IT and BA networks. With the extension module LWLAN-800 that can be connected to the L-ROC via USB, L-ROC Room Controllers even go wireless.
Benefits:
L-ROC Room Controllers combine all disciplines in room automation and provide a high integration depth due to their interfaces to all communication standards which are relevant for building automation. With using L-ROC Room Controllers in a KNX system, new possibilities in terms of room flexibility and room operation options for KNX technology emerge. L-ROC Room Controllers are no active participant in the ETS project, only physical addresses for the controllers have to be reserved. Thanks to the consistent and object-orientated approach of L-STUDIO, entire buildings can be configured with unprecedented speed. Global information like weather data is automatically distributed via the IP communication structure down to the room segment and don't have to be created in a time-consuming work as "1 to n"-connections.
The connection of individual room segments to new rooms is done via a single data point that is available in every segment, the so called RoomID. If two or more room segments shall be combined to one room, they just receive the same RoomID. The data point can be manipulated in many ways – via a simple adjustment on the L-ROC web interface or integrated in a BMS with clear visualizations of entire floor plans with appropriate graphical control elements and dynamic fade-ins of separation walls or even displayed and operated via a standard web browser (PC, tablet, smartphone) and/or via an L-VIS Touch Panel. With L-STUDIO, even such complex graphical projects are created very fast and easily.
Features:
Room automation for HVAC, lighting control, sun blind control and more with L-ROC Room Controllers in combination with KNX devices
Efficient configuration of the room automation system with L-STUDIO
Simple adjustments of the room configuration can be made by the operator
Room operation via PC desktop using LWEB-803
Simultaneous communication via different communication protocols
AST functions – alarming, scheduling, trending
Integrates seamlessly into the L-WEB System
Range of application:
Community facilities:
Business facilities: