LOYTEC offers network terminators for RS‑485 channels (ANSI TIA/‌EIA‑485) such as BACnet MS/‌TP, Modbus RTU, or TP/RS485 (CEA‑709) in DIN rail housings.
L-Term LT-04 is a terminator for RS‑485 channels. In addition, LT-04 comes with a network access connector (RJ45) for a simple and reliable connection to the network e.g. for maintenance or analyzing the network locally.
The LT-B4 is a bus terminator for an RS‑485 channel with biasing circuit (failsafe biasing). This biasing circuit draws the level of the bus during standby mode (idle) to a safe value (logic "1"). The LT-B4 needs a power supply of 24 V AC or 24 V DC.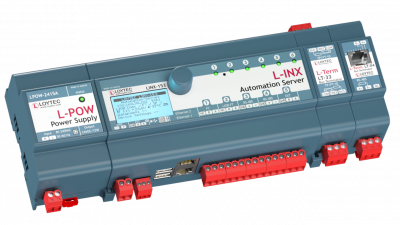 L-Term Network Terminator (BACnet MS/TP, Modbus RTU or RS-485) Products

---

LT-04

Network terminator for 1 x RS‑485 (bus topology, ANSI TIA/EIA-485), 1 x Network Access Connector RJ45

Start quote request
Documentation and Software

3D View


bf19589bbbe8459db966fed91769bdf7

---

LT-B4

Network terminator, 1 x RS‑485 (bus topology, ANSI TIA/EIA-485) with biasing circuit (failsafe biasing)

Start quote request
Documentation and Software

3D View


bbe8518afc834c6c99b65dfc0cf92b36