LIOB‑10x/11x I/O Modules extend L‑INX Automation Servers, L‑ROC Room Controllers, and LIOB‑586/587/588/589 I/ O Controllers with physical inputs, outputs or bidirectional I/Os. Several models with different I/O configurations are available.
LIOB-Connect
The LIOB‑10x/11x Modules have gold-plated connectors (LIOB‑Connect) to string multiple devices together and connect them to the L‑INX, L‑ROC or LIOB-586/587/588/589. These controllers automatically recognize the LIOB‑10x/11x I/O Modules and provide the resulting data points.
Local Operation and Override
All L-IOB I/O Modules are equipped with an LCD display (128x64) with backlight and jog dial for manual local operation. Device and data point information is displayed in text form and via graphical symbols.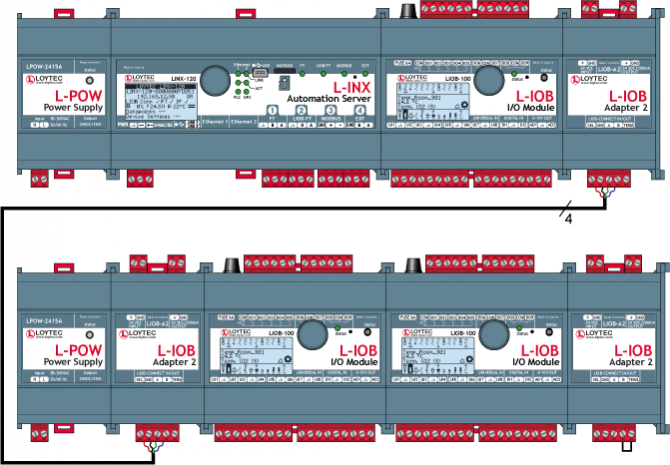 Features
I/O module with physical inputs, outputs or bidirectional I/Os configurable as either input or output
Connected to the L-INX Automation Server, L-ROC Room Controller or LIOB‑586/587/588/589 I/O Controller via LIOB‑Connect
Manual operation using the jog dial
128x64 graphic display with backlight
Local access to information about device status and data points in clear text and symbols
Automatic integration into device configurations with L-INX, L-ROC, and LIOB‑586/587/588/589
Easy device replacement without any additional software
LIOB-Connect I/O Modules Products

---

LIOB-100

LIOB-Connect I/O Module: 8 UI, 2 DI, 2 AO, 9 DO (5 x Relay 6 A, 4 x Triac 0.5 A)

Start quote request
Documentation and Software

3D View


a0bf19dfbe784dbaa9cd8f9cdb98c09d

---

LIOB-101

LIOB-Connect I/O Module: 8 UI, 16 DI

Start quote request
Documentation and Software

3D View


2f6e616c155041cdbe1aaa96984fb8f6

---

LIOB-102

LIOB-Connect I/O Module: 6 UI, 6 AO, 8 DO (8 x Relay 6 A)

Start quote request
Documentation and Software

3D View


f8d461e56b73471bb2bd3e989c647829

---

LIOB-103

LIOB-Connect I/O Module: 6 UI, 6 AO, 5 DO (5 x Relay 16 A)

Start quote request
Documentation and Software

3D View


3580ef64d7224d58b0b8df422b0e33aa

---

LIOB-110
LIOB-Connect I/O Module: 20 Universal I/O (IO)
Start quote request
Documentation and Software

3D View


fc37c4e2d8334dc9a4008a93fdeed68b

---

LIOB-112
LIOB‑Connect I/O Module: 40 Universal I/O (12 optionally with 4-20 mA Current Output)
Start quote request
Documentation and Software

3D View


a4c0124f6524494b937e4a77bdc9a9cf

---

LIOB-A2

L‑IOB Adapter 2 to split the LIOB‑Connect bus using 4-wire cables

Start quote request
Documentation and Software

3D View


6270d50d08a74b69ab8be97bca242b29

---

LIOB-A4

L‑IOB Adapter 4 to split the LIOB‑Connect bus using RJ45 network cables

Start quote request
Documentation and Software

3D View


798babbffc92440b8bdb6445698fa381

---

LIOB-A5

L‑IOB Adapter 5 to terminate the LIOB-Connect bus

Start quote request
Documentation and Software

3D View


3923a39c788f4a42b55a246006327dc1

---

LPOW-2415A

LIOB-Connect Power Supply, 24 VDC, 15 W

Start quote request
Documentation and Software

3D View


bf6ff2e52c15478091e6b057aec2452c

---

LPOW-2415B

Power supply unit with power connector 24 VDC, 15 W

Start quote request
Documentation and Software

3D View


c2eacbb15ec04078becb106cf02fe7ed

---

LPOW-2460B
Power supply unit with power connector 24 V DC, 60 W
Start quote request
Documentation and Software

3D View


a62eedc6a7e349c3a8e86dd085610439

---

L-TEMP2
External temperature sensor (NTC10K) for use with L-IOB Universal Inputs
Start quote request
Documentation and Software