Task:
Lighting control based on DALI is to be operated via touch panels and should be integrated seamlessly into a BACnet system. DALI lights should be switched on and off and dimmed via BACnet touch panels or a BACnet based building management system. Additionally operation status and failure mode like lamp malfunction of the separate lights should be displayed.
Change of lamps should be accomplished easily without additional software tools on the DALI side.
Solution: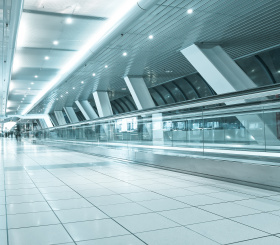 The lighting system is established in DALI according to the specifications. With the LOYTEC LDALI-ME204-U 4 DALI segments, each with up to 64 DALI lamps, are operated. The lamps can be switched and dimmed separately, in groups or all together. Per 2 DALI segments additionally one DALI power supply LDALI-PWR2-U or for up to 4 DALI segments one LDALI-PWR4-U are established.

Integration of the DALI side easily happens through the built-in web server of the LDALI-ME204-U. For each DALI lamp or DALI group the LDALI-ME204-U provides dedicated analog output BACnet server objects on the BACnet side. These BACnet server objects are used by the BACnet L-VIS touch panels, by BACnet controllers or by a BACnet based building management system to control the lighting system via BACnet. The BACnet objects provide lighting values plus the operation status of the lamps through properties.

Preferably BACnet integration happens via BACnet IP. However integration via BACnet MS/TP is supported as well.
Benefits: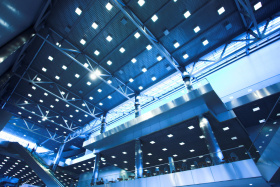 Powerful lighting systems with individually addressable lights can be established easily and efficiently by using DALI. LDALI-ME204-U simultaneously controls up to 4 x 64 lights through 4 DALI segments and enables seamless integration into BACnet systems. HVAC (Heating, Ventilation, Air Condition) and lighting systems merge seamlessly to one integrated system. Sustainable energy saving potentials are achieved through utilization of the synergies of both applications. Especially during operation and maintenance of the lighting system LDALI-ME204-U is a benchmarking device. Through the built-in web server all required functions are available in a web browser, which are necessary for the change of lights or lamps. Special DALI tools are not needed.
Features:
Seamless DALI integration into BACnet

Touch control via LOYTEC L-VIS Touch Panels available in three sizes (7", 12.1", and 15")

Detection of malfunctions of lamps or ballasts including signaling on the BACnet side

BACnet integration either via BACnet IP or BACnet MS/TP

Commissioning of the DALI devices via the built-in web server

Ballast or lamp changes by means of web browser
Range of application:
Community facilities:
Kindergardens and schools
Hospitals
Public swimming pools
Retirement and care homes
Sport halls
Administration buildings
Business facilities:
Office buildings
Shopping centers
Airports
Railroad stations
Production halls
Warehouses
Case Studies: