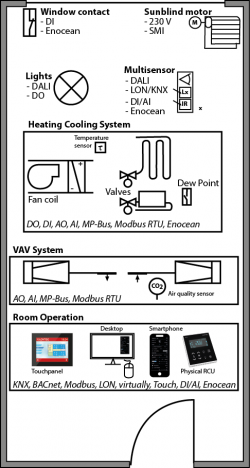 Room automation plays an important role in operating a building energy efficiently. Without a comprehensive room automation concept that is also integrating subsystems, requirements for the energy efficiency class A according to EN 15232 can't be met. As a planning tool for implementing the specifications of EN 15232, VDI 3813 German guideline has been created. There, specific room functions are defined that are assigned to physical devices. In the resulting feature list and the control diagram based on the specifically designed shell model, devices and features can then be assigned either to a segment (the smallest automation unit), a room, an area, or a building. Hereby, the degree of flexibility for creating new room situations, what is particularly important for office and administration buildings and is frequently required by building owners already in the earliest stage of planning, is defined.
But there is more than efficiency features and flexibility, whereupon room automation systems have to respond. Also for energy consumers in a room like sun blinds, lighting, valve actuators, various control options and requirements are available nowadays. Whereas DALI has been established in lighting control for many years, SMI as a communicative interface for sun blinds enjoys enhanced popularity and is increasingly deployed in projects as an alternative to traditional 230V engines with relay control. Also MP-Bus as a digital interface for valve actuators and volume flow controller is considered as an alternative to traditional control through 0–10V or pulse width modulation.
Another aspect that has to be considered carefully is the room control concept. KNX-TP1 and Modbus RTU are clearly the first communication buses for wired and integrated room control units to be mentioned. Here, numerous models are available on the market, satisfying any design requirements. With L-STAT, LOYTEC offers a room control unit with Modbus RTU interface. As a wireless, self-sufficient variant for room control (and also for window contacts and meanwhile valve actuators), EnOcean has become well-established. Another increasingly popular solution is virtual room control. The control of room functions via PC workplace makes sense primarily in open-space offices as an adequate installation site for traditional room control units can hardly be found. Nowadays, also control via smartphone or tablet shouldn't anymore be a wishful thinking.
But it's the ever increasing demand for virtual room control solutions which causes the next question to be raised: How to create a solution for integrating IP networks of IT and building automation everyone (both IT and building automation departments) can live with? How much emphasis is placed on IT security in building automation networks in general? In times of bugging scandals, an increasingly relevant question!
The LOYTEC Solution
With the LROC-40x Room Controllers, LOYTEC provides a solution that eliminates all concerns about requirements and questions described above. Embedded in a compact sheet-steel housing for installation in suspended ceilings or in raised floors, the room controllers feature onboard interfaces to BACnet (IP and MS/TP), LON-IP, KNX (IP und TP1), Modbus (TCP and RTU, Master or Slave), OPC, DALI, SMI, MP-Bus and EnOcean. Complicated and cost intensive gateway solution, e.g. for the integration in a building management system, are no longer necessary. Of course, for the physical connection of consumers, a well-planned constellation of in- and outputs (I/Os) is available.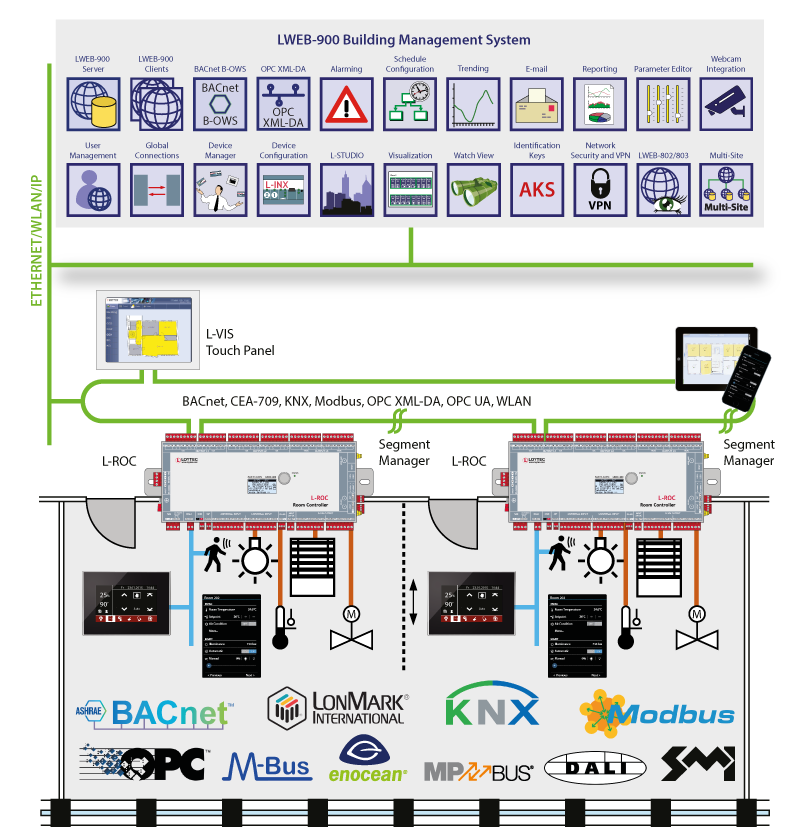 All models feature two Ethernet ports that optionally can be operated in switch mode or can be configured to work in separated networks. This way, for example, one Ethernet port can be connected to the building automation network and the other port to the IT network. The built-in webserver provides customer specific graphics for operation and also visualizations of floor plans that can be operated as HTML5 pages via an arbitrary web browser or via a Windows PC. Of course, the integration into LOYTEC's LWEB-900 Building Management System and also connectivity to systems of other manufacturers because of the support of all significant standard protocols is easily possible.
Moreover, all models feature communication via SSL secured web services allowing a level of security that is equal to popular IT security mechanisms.
Depending on the model, each controller can handle up to 16 rooms respectively room segments. Thereby, the entire feature set to reach maximum energy efficiency is available:
lighting control with constant light controller,
sun blind control with sun tracking,
temperature control for heating, cooling, and ventilation,
occupancy detection,
window monitoring,
scheduling,
alarming,
trending,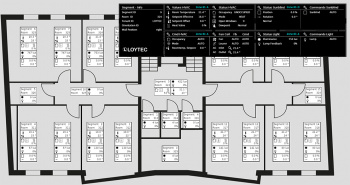 All parameters and complete flexibility are also part of LOYTEC's prefabricated segment functions that are fully independent of the hardware thanks to IEC61499 technology. Thus, e.g. each segment receives a room ID parameter that defines to which room the segment belongs. If two adjacent rooms receive the same room ID, they automatically belong to one room and no additional parameterization is required. This way, the owner himself is able to create new room situations with minimal effort.
For commissioning the LOYTEC room automation system, with L-STUDIO a software is available that facilitates the implementation of all functions and visualizations described above due to its consistent object-oriented approach.
The models in detail
LROC-400 – The no-brainer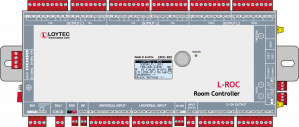 LROC-400 has been designed for a system-wide solution that prepares you for anything you may encounter in a room. The controller provides 24 relays, 8 TRIAC outputs, 8 analog outputs, 10 universal inputs, and 2 digital inputs, and also communicative interfaces for BACnet (IP and MS/TP), LON-IP, KNX (IP and TP1), Modbus (TCP and RTU, Master or Slave), OPC, DALI, SMI, MP-Bus and EnOcean.
Physical in- and outputs can be configured randomly – hence, relays can be used for optionally controlling e.g. 3-stage fans, sun blinds or other switched loads. Similarly, inputs, e.g. for dew point or temperature sensors, window contacts, or other sensors and potential free contacts can be configured. Depending on the room requirements, the controller can operate up to a maximum of 8 rooms/room segments. An interface is available to connect room control units, like LOYTEC's L-STAT. Of course, LOYTEC's L-VIS Touch Panels can be integrated via IP or it is possible to choose the option of virtual room operation. For the integration of third-party products, the interfaces described above are available. To offer a complete solution, LOYTEC provides the multi-sensor LDALI-MS2 with DALI interface.
LROC-401 – smart office
The controller exclusively provides communicative interfaces for BACnet (IP and MS/TP), LON-IP, KNX (IP and TP1), Modbus (TCP and RTU, Master or Slave), OPC, DALI, SMI, MP-Bus and EnOcean. It was designed as a solution that doesn't require any physical in- and outputs. Compared to the other models, it can even control up to 16 rooms/segments.
Up to 16 sun blinds are connected via SMI. For lighting and multi-sensor, a DALI interface is available. Valve actuators (e.g. Belimo 6-ways valve) are controlled via MP bus. Room operation is implemented, for example, via L-STAT or EnOcean which also controls possible window contacts.
LROC-402 – Simply HVAC
Meanwhile, most specialists are aware of the meaningfulness of an integral, system-wide room automation solution. However, the daily project routine is often different. Stuck and often relatively inflexible project workflows are probably the cause of the frequent separation of lighting and sun blinds control from room climate control and air-conditioning. Once the planning contracts are assigned, it's nearly impossible to connect subsystems according to a uniform and integral concept. Normally, lighting and possibly sun blinds control are installed by an electrician (mostly KNX). The HVAC company is given the order to take care of room climate control. The benefits of an integral room automation solution with system-wide efficiency features and also flexibility with 2 separate systems can either not be implemented or can only be implemented with extensive effort.
Even here, with LROC-402, LOYTEC has the ideal solution:
LROC-402 is designed for the control and regulation of heating-/cooling-, respectively ventilation systems of a room. It features the same I/O's as LROC-400, 24 relay, 8 TRIAC outputs, 8 analog outputs, 10 universal inputs, and 2 digital inputs. As communicative interface for the field bus integration, only MP bus and Modbus RTU are available.
The highlight: Via the built-in KNX TP1 interface it is now possible to integrate KNX actuators from the electrical point of view. If the features integrated in LROC-402 to control lighting and sun blinds, and KNX modules are only used as actuators and sensors, it is even possible to realize a flexible-axis solution in spite of the separation. If that's not required and lighting and sun blinds are controlled via KNX, LROC-402 can still act as a gateway between KNX and BACnet/IP, e.g. for the connection to a building management system.
Scope of application:
Municipal facilities:
administrative buildings

hospitals

universities
Commercially used buildings:
office buildings

shopping malls

hotels