The LDALI-RM8 Relay Module enables the control of standard loads via DALI. Typical application scenarios are the integration of non‑DALI luminaires or other loads like fans in toilets or washrooms, motors for partition walls or screens and fire protection flaps in DALI lighting applications. The device provides 8 built-in relay contacts, which can be controlled individually via separate DALI addresses as long as the corresponding digital input is open. Closing this input will always switch on the relay (override). Each relay provides a switch that indicates the state and that can be used to switch the relay manually (installation and maintenance). The built-in relay contacts can be used for currents of up to 16 A. They support a wide voltage range of 120 – 277 V AC and up to 30 V DC. The relays are suitable for loads with high inrush currents.
Together with the LOYTEC L-DALI controllers or LROC‑40x room automation controllers, the LDALI-RM8 devices act as programmable switching output modules. The integration of the module in the DALI network follows the same simple steps as the integration of DALI lamps. The device supports the DALI specification IEC 62386‑208 (Device Type 7, "switching function") for non‑dimmable loads. The LDALI‑RM8 is externally powered either by 24 V DC or 85 – 240 V AC.
As a unique safety feature, the relay state for fault conditions can be partially configured. In case of a power loss on the DALI bus, the relays will switch to the position as defined with the DALI configuration register "System Failure Level". In case of a power loss on the 24 V DC / 85 – 240 V AC the relays keep their state until a "Power On" occurs, at which they will switch to the state defined in the "Power On Level" configuration register.
The LDALI-RM8 is intended to be used in a switching cabinet.
The LDALI-RM8 is DALI-2 certified.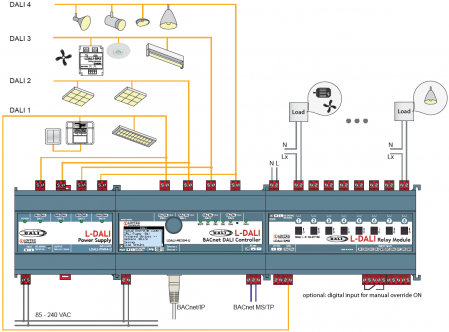 Features
Easy integration into LOYTEC L‑DALI lighting systems and LROC‑40x room automation controllers
Device configuration with the free LINX-Configurator or via the built‑in web server of the L‑DALI controller
Programmable switching outputs for standard loads in the power grid
Relay contact switching voltage: 120 – 277 V AC
Suitable for loads with high inrush currents
Up to 8 LDALI‑RM8 modules per DALI channel
Supplied via 85 – 240 V AC or 24 V DC ±10 %
Potential‑free, bi‑stable relay make contact
Relay contacts connectable with different phases
DALI specification IEC 62386‑208 (Device Type 7 – Switching Function) supported
DALI-2 certified
Configurable relay positions in case of DALI line outage
Relays keep their state in case of power loss
Manual switches on device for indication and manual override
Digital inputs forcing the corresponding relays to switch on (override, status can be queried)
Firmware update over DALI
LDALI-RM8 Relay Module Products

---

LDALI-RM8

DALI Relay Modul, 8 channel

Start quote request
Documentation and Software

3D View


63c2b999846f45439ef9d69a5b6fe952