Different usage scenarios of a room might require different lighting scenarios to create a specific effect or ambiance. A simple example is a meeting room, where during a typical meeting, all lights must be on, while during a presentation, lights must be dimmed down with the lights near the screen switched off.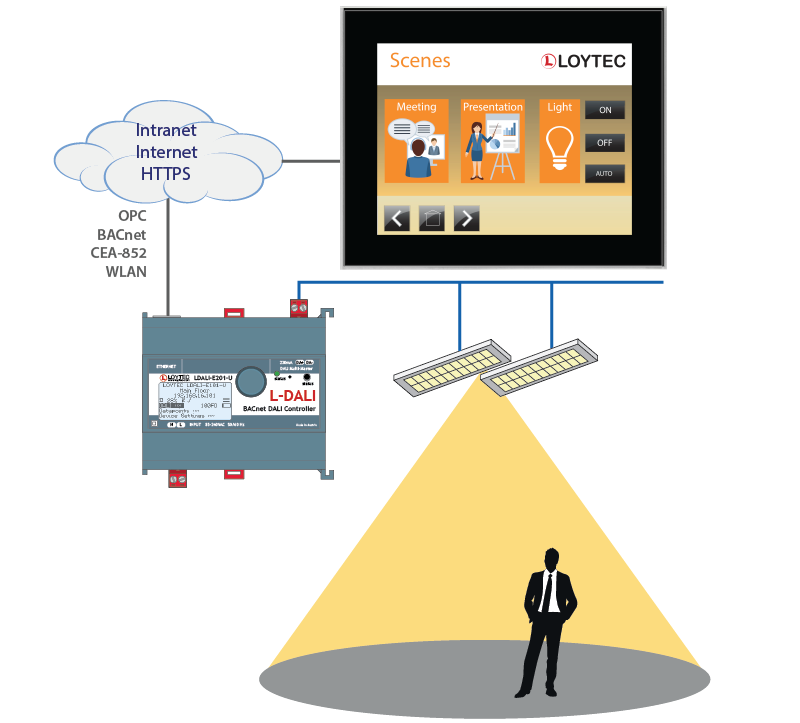 The LOYTEC lighting system allows comfortably configuration of up to 16 such scenes by defining the dim level and, if supported, the color of each luminaire or each group of luminaires in a room. After being defined, scenes can be recalled by the touch of a button on any LOYTEC devices for manual control or automatically via a schedule.
Due to the flexible integration with other systems in the building, various other triggers for automatic scene activation can be defined. In a hotel room, as an example, the access control system can activate different lighting scenes depending on whether a guest or cleaning staff is entering the room.
Again, scenes cannot only include lights, but can also move sunblinds to a configured position or switch relays to unroll a screen or lift a beamer.
Typical applications:
Meeting room
Auditorium
Hotel reception
Hotel room
Restaurant
Canteen
Bar
Shop
Supermarket
Treatment room
Classroom
Sports arena
Products: