University of Lincoln, Think Tank, Lincoln, United Kingdom, 2015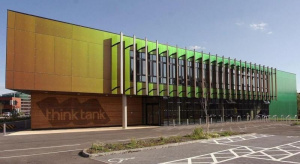 The Think Tank building is based within the Campus of Lincoln University and provides office and meeting room space for various departments of the University. It acts as an incubator for start-up businesses alike.
The original BMS (Building Management System) although originating from 2008 was poorly installed and configured, this led to numerous operational issues with the plant and ultimately high energy usage. Therefore, the University approached the LOYTEC Competence Partner SGCI to come up with a cost viable solution to replace the entire system, with the caveat to drastically improve user comfort within the building and occupied spaces as well as reducing energy consumption.
The building was already installed with 1 Gas fired boiler with 1 x VT circuit plus associated pump sets, 2 GSHP (Ground Source Heat Pumps) with associated pump sets, underfloor heating systems (UFH) and a Monodraught natural ventilation system (NVS).
The SGCI solution was to utilize the extensive range of products from LOYTEC and it was also decided to re-wire the entire BMS infrastructure as the original installation/cabling was found to be unsuitable in the main and also ridden with faults. A new control panel was to be designed and installed within the boiler plant room with spare capacity for future expansion of plant & equipment.
All local room/zones controllers were to be replaced with LOYTEC L-IOB I/O controllers along with all sensors (Temp & CO2), UFH manifold valve actuators as well as Belimo actuators for the Monodraught unit c/w end switch interfaces to improve BMS control of the NVS. A new weather station was to be installed to provide wind speed/ direction, rain level and outside air temperature measurements.
Programs defined within the new BMS are:
Boiler plant optimization,
Demand led CT & VT circuits,
Boiler/GSHP sequencing,
Night purge of NVS,
Improved control and interface of both NVS and UFH for each room/space,

Improved NVS control by way of utilizing CO

2

levels,

Provision of user adjustments to their own room/space by way of set point adjuster and NVS override switch,
Time clock occupancy control of landlord and tenant areas,
Security lock down of ground floor window ventilation system,
Alarming of critical plant status incl. email notification to estates department & maintenance teams,
Trend logging both current (24hr) and archived (72 hr+) for each sensor connected,
User Interface via LWEB-803 visualization software loaded onto multiple university PC's for access to the system incl. PIN level protection of adjustable parameters,
VPN remote access for SGCI bureau monitoring and support.
Interesting Facts
Location
Lincoln, United Kingdom

---

Number of Nodes
25

---

Topology

(CEA 709) FT10 & IP852 + Modbus RTU & BACnet via LINX 150

---

Companies involved

SG Controls & Integration Limited

---

LOYTEC Components        
1 x LINX-150, 1 x LINX-111, 4 x L-IOB I/O Modules, 18 x LIOB-180, 1 x L-VIS Touch Panel, 1 x LPOW-2415A, 18 x LPOW-2415B

---

---

LOYTEC Tools


LWEB-803, L-INX Configurator, L-VIS Configurator, L-Logicad (IEC 61131) & LPA (LOYTEC Protocol Analyser)