Awards
Goldene Securitas 2014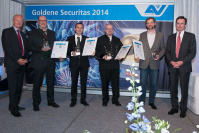 The "Goldene Securitas" is an award of the Austrian chamber of commerce and the Austrian Workers' Compensation Board (AUVA) for small and medium-sized enterprises that have been taken exemplary measures in the area of security and health at work and preservation of employability. The award covers three categories: "health and safety at work", "innovation for more security", and "diversity ensures success". We are proud about the Silver Securitas in the category health and safety at work for our successful measures to prevent occupational accidents or illnesses. Dipl.-Ing. Alexander Bauer (Photo: 3. from left) received the award for LOYTEC on the 6th of November 2014 during a ceremony in Vienna's Hofburg.
Crescendo'14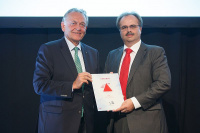 The Crescendo Award that was presented on the 29th of September 2014 in Vienna is the new enterprise award instituted by the Vienna Chamber of commerce and the ORF (Austrian Television). The companies are awarded in the three categories startup, ascent, and endurance for their entrepreneurship and autonomy. Demanded are entrepreneurs that lead their companies with economic expertise, heart, and mind, thereby also fulfilling their social responsibilities. We are very happy about LOYTEC's nomination in the category endurance. 
Hidden Champion 3.0, 2014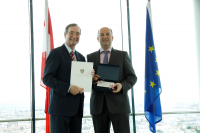 In recognition of outstanding merits for the Austrian export economy, the Austrian Chamber of Commerce (WKO) grants the award "Hidden Champion" to companies that significantly drive the Austrian export economy. LOYTEC ranks among the leading Austrian companies and was therefore awarded as "Hidden Champion 3.0". On June 24, 2014, managing director of LOYTEC Dietmar Loy received the award from Christoph Leitl, president of WKO, in the course of the Austrian Export Day 2014 in Vienna. The recipe for success of Hidden Champions is explained by Georg Jungwirth from the University of Applied Sciences of Economy:" Superior product quality, surpassing expenditures for research and development, a clear focus, well-trained employees with little fluctuation, customer orientation, early internationalization, and eventually, charismatic leaders with clearly defined goals".
Constantinus European Award 2014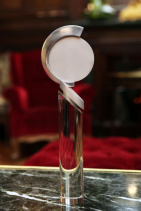 At the Constantinus European Award Europe's best consulting and IT companies compete for the honor to become nominated or awarded for outstanding quality. The international jury of FEACO, the European Federation of Management Consultancies Associations, awarded the silver medal to LOYTEC. The award ceremony took place in Madrid on May 29th, 2014. Criteria for the award are commercial performance, strategic strength, quality of solution, efficiency, and international impact. LOYTEC received the silver medal for the international project "Energy Efficiency in Japan – Sony Corporation Tokyo", a L-INX based solution for the SONY research center in Tokyo, a building that achieves remarkable energy efficiency criteria.