LOYTEC Project "Expo 2020 Dubai Pavilions" wins KNX 2022 Award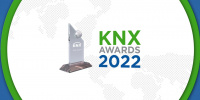 We proudly announce that the LOYTEC project "Expo 2020 Dubai Pavilions" wins the prestigious KNX Award in the category "Smart Building Asia". The KNX Awards reward the smartest KNX projects in building control around the world, which stand out as regards innovation and technical progress.
The "Expo 2020 Dubai Pavilions" project implemented by Controlium Building Technology, LOYTEC Competence Center in Middle East & Africa, LOYTEC IoT solutions played a major role in the integration of all KNX devices via LROC-400 Room Controller and LDALI-ME204 Lighting Controller. L-WEB and L-VIS Touch Panels were used for visualization, with full monitor and control functionalities in the pavilions.
Watch the award ceremony video on YouTube.