Awards
Lux Awards 2016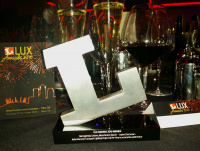 With the Lux Award "Project of the Year 2016" LOYTEC succeeds in the category "Industrial and Transport Lighting" in London. The international jury awarded the Manchester Airport project, which has successfully implemented a modern DALI lighting system with constant light control and presence detection. LOYTEC shows with Competence Center Calon, what intelligent building management systems can achieve in terms of energy efficiency.
Success Story of the Year 2016 - UBIT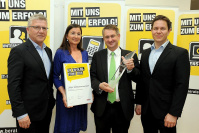 The specialist group for information technology (UBIT) of the chamber of commerce awarded the project "Building Automation for a Malaysian Hypermarket" as success story of the year. The managing director Gernot Fellinger congratulated LOYTEC for this successful project that has been carried out in cooperation with the Malaysian company M&C Engineering and Trading. The LOYTEC automation solution controls heating, ventilation, and air conditioning on an area of 9,000 m2 with 55 shops. Moreover, the system collects energy data, uses open communication standards and allows for remote control.
Austria's Leading Companies 2015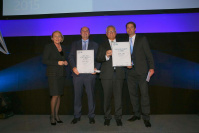 Also in 2015, LOYTEC received the highly coveted "Austria's Leading Companies Award". In the category "golden medium-sized enterprises" LOYTEC won a third place not only in the national ranking of Vienna, but also in the Austrian-wide ranking. After the first place in 2014, LOYTEC is again ranked among Austria's business elite. The award is annually presented by WirtschaftsBlatt (daily newspaper for economics), PricewaterhouseCoopers (PwC), and KSV1870. Crucial for the judges' decision are different performance figures. As a specialist in building automation and network infrastructure, LOYTEC fights in a highly competitive market. In future, LOYTEC will put the focus of its business on methods for energy saving and IT solutions. "In future, buildings will be located in clouds that opens op the possibility to access systems anytime and anywhere", CEO Dr. Dietmar Loy explains.
State Award IT 2014
LOYTEC has been nominated for the Austrian IT state award because of the project "energy efficiency in Japan thanks to LOYTEC". "This award is a visible sign for Austrian quality on the national and international market and sends a strong signal regarding the importance of intellectual performance in a growing knowledge-driven economic world", concluded vice chancellor and commerce secretary Reinhold Mitterlehner at the award ceremony.