Awards
State Award IT 2014
LOYTEC has been nominated for the Austrian IT state award because of the project "energy efficiency in Japan thanks to LOYTEC". "This award is a visible sign for Austrian quality on the national and international market and sends a strong signal regarding the importance of intellectual performance in a growing knowledge-driven economic world", concluded vice chancellor and commerce secretary Reinhold Mitterlehner at the award ceremony.
Austria's Leading Companies 2014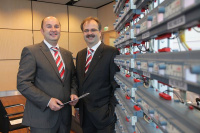 LOYTEC is the proud winner of the category "golden medium-sized enterprises" of Vienna at the Austria's Leading Companies Award 2014. Annually, numerous leading players of Austria face the competition, organized by WirtschaftsBlatt (daily newspaper for economics), PricewaterhouseCoopers (PwC), and KSV1870. Different performance figures of the past 3 years are crucial for the judges' rating. Managing director Hans-Jörg Schweinzer received the award on Tuesday, November 25, 2014 at Palais Liechtenstein in Vienna. After second place in the previous year, then still in the category "solid small businesses", we couldn't just improve our ranking, but also rise from a small business to a medium-sized enterprise, a particular pleasant result for LOYTEC.
Goldene Securitas 2014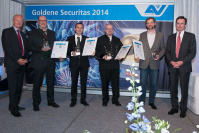 The "Goldene Securitas" is an award of the Austrian chamber of commerce and the Austrian Workers' Compensation Board (AUVA) for small and medium-sized enterprises that have been taken exemplary measures in the area of security and health at work and preservation of employability. The award covers three categories: "health and safety at work", "innovation for more security", and "diversity ensures success". We are proud about the Silver Securitas in the category health and safety at work for our successful measures to prevent occupational accidents or illnesses. Dipl.-Ing. Alexander Bauer (Photo: 3. from left) received the award for LOYTEC on the 6th of November 2014 during a ceremony in Vienna's Hofburg.
Crescendo'14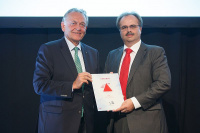 The Crescendo Award that was presented on the 29th of September 2014 in Vienna is the new enterprise award instituted by the Vienna Chamber of commerce and the ORF (Austrian Television). The companies are awarded in the three categories startup, ascent, and endurance for their entrepreneurship and autonomy. Demanded are entrepreneurs that lead their companies with economic expertise, heart, and mind, thereby also fulfilling their social responsibilities. We are very happy about LOYTEC's nomination in the category endurance.