Awards
Best Infrastructure Product 2012 by LonMark International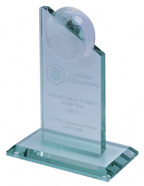 For the fourth time in succession LOYTEC was awarded "Best Infrastructure Product of the Year" by LonMark International. Against keen international competition LOYTECs
LGATE-950
 Universal Gateway could come out the winner of this worldwide contest. Nominations were judged based upon the following criteria: uniqueness of solution, addressing industry problem with effective solution, openness of solution and integration into an open ISO/IEC 14908 system. Special consideration was given to energy efficiency, industry best practice solution and sustainable design principles.
"Every year we continue to be impressed with the level of innovation from our members," said Barry Haaser, executive director, LonMark International. "The dedication to innovation grows significantly and this year's winners truly demonstrated superior levels of expertise with open control networking technology based on the ISO/IEC 14908 suite of standards."
Health Award of Upper Austria 2012

LOYTECs Export and Logistics Department was awarded the Health Award of Upper Austria 2012. The award is presented each year by the Economic Chamber of Upper Austria to companies, which promote work place health care to a special extent. This commitment shall be rewarded. Vital criteria for the competition have been workplace design, fitness facilities for employees, staff-oriented management style and a kind of corporate culture promoting motivation of staff members. "The people employed are our capital, but also the soul and the heart of our company. This is why we meet them with appreciation, grant a say in matters of office design and provide an in-house fitnesscenter and a garden pool for well spent breaks during but also after office hours. Fruit and tea for free is a matter of course, too, " stated Josef Wojak, LOYTEC CFO, when gladly accepting the award.
Austria's Leading Companies 2012

Also in 2012 LOYTEC electronics was able to rank among "Austria's Leading Companies" and conquer a place at the winners' platform of the annual ranking of the local business elite: Third place in the regional contest of Austrias capital city Vienna, seventh place in the nationwide ranking of the competition, category "small enterprise". For the incredible fifth time LOYTEC is among the winners of this prestigious business contest. With great pleasure system developer Andreas Doederlein accepted the trophy from Brigitte Jank, president of the Viennese Economic Chamber. The coveted honor to become one of "Austria's Leading Companies" is awarded annually by Wirtschaftsblatt (daily newspaper for economics), PricewaterhouseCoopers (PwC) and KSV1870. Crucial for the rating are operating and financial ratios, bonus points can be gained for sustainability.
Constantinus 2012

At the annual CONSTANTINUS Awards Austria's best Consulting and IT companies compete for the honor to become nominated or awarded for outstanding quality. UBIT - the Austrian Professional Association of Management Consultancy and Information Technology has created the CONSTANTINUS Award to promote excellence in consulting and IT-services. The CONSTANTINUS has so far been awarded to UBIT members and their respective customers each year since 2003. It has become the leading national award for knowledge-based services in Austria. The award ceremony took place in St. Wolfgang/Wolfgangsee (Salzburg) on June 14th, 2012. Criteria for the award are commercial performance, strategic strength, quality of solution, efficiency and international impact. LOYTEC has succeeded in becoming nominated in the categories "Standardsoftware and Cloud Services" and "International Projects" with an L-WEB based solution for the school district of Decatur/USA.