Awards
National Finalist for the 2012/13 European Business Awards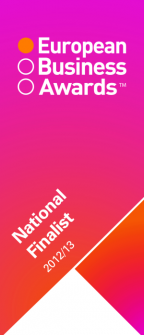 LOYTEC electronics has been selected as one of 20 National Finalists for Austria in the 2012/13 European Business Awards. In competition with the best businesses of the country LOYTEC won the accolade of representing Austria at Europe's largest awards program. Now LOYTEC will go on to compete for the honour of becoming one of Austria's National Champions. European Business Awards is an indepenent awards program designed to recognize and promote excellence, best practice and innovation in the European business community. LOYTEC entered the contest with L-ROC, the revolutionary room automation system for flexible room assignment.
LonMark International: Product of the Year 2011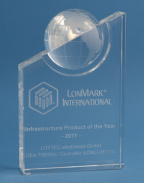 For the third time in succession LOYTEC is awarded "Infrastructure Product of the Year" at the annual LonMark International "Best of the Year" awards. As prizewinning device of the year 2011 LOYTEC's L-DALI CEA-709 DALI Controller convinced the jury of this renowned contest. Product nominations from around the world were encouraged. LonMark International recognizes companies and projects that are leading the industry in innovation and accomplishments through its annual LonMark award program, believing that innovation and inspiration are the cornerstones of continued growth for any industry. Nominations were judged based upon the following criteria: Uniqueness of solution, addressing an industry problem with an effective solution, openness of solution and integration into an open LonMark system. Special consideration was given to energy efficiency, best practice solution for the industry and sustainable design principles.
Mercur 2011

Once more LOYTEC is among the winners of Mercur, the Awards for Innovation presented by the Viennese Federal Economic Chamber. The goal of the Mercur Awards is to reveal and strengthen the innovational capability of Viennese companies. LOYTEC was awarded the special award "Cooperation" which is dedicated to innovative projects in the field of energy efficiency and energy management in conjunction with universities, research facilities or colleges. LOYTEC, receiving this award now automatically is a nominee for the Austrian State Prize for Innovation. All submissions were assessed by the renowned and independent Institute for Industrial Science. LOYTEC was awarded the favored prize for the innovative L-WEB System and an energy saving application at the school district of Decatur, Indianapolis, USA.
Austria's Leading Companies 2011

This year, too, LOYTEC is among the winners of Austria's business elite and was awarded "Austria's Leading Company". For the incredible fourth time the prize trophy was presented to LOYTEC Managing Director Dr. Dietmar Loy – this time by Secretary of the Treasury Dr. Maria Fekter – for the first place in the federal state of Vienna, category "small enterprise". The nationwide overall ranking of the competition resulted in the excellent third place for LOYTEC. The annual contest of Austria's most successful companies is held by Wirtschaftsblatt (daily newspaper for economics), PricewaterhouseCoopers (PwC) and KSV1870. Crucial for the rating were the operating and financial ratios of the last few years, bonus points could be gained for sustainability.