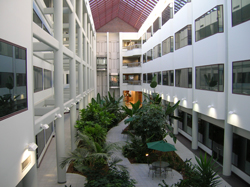 The Parkway Atrium Building is a 23 year old four story 184,000 sqft Class B office building located in the suburbs of Washington DC. The building was constructed as a spec building and has been through numerous small changes and a major renovation in 2004.
In 2006 a new management of the building began to identify and implement energy conservation methods. In 2007 the building was benchmarked for an Energy Star with a score of 72 and a goal of obtaining a minimum Energy Star Rating of 75. It was then decided that a full building controls upgrade would proceed in a phased implementation over four years. After examination of various solutions the decision was made to implement a LonMark System using LNS® (LonWorks Network Services). The LonMark system provided the ability to select products from multiple vendors and present monitoring and control in an open distributed manner for lighting, energy and HVAC systems.
The benefit of selecting a LonMark System was very apparent because the proposed four year installation was completed in less than two years by the internal staff. The building has reduced energy consumption over 20% after work done to date.

A number of different HVAC energy saving strategies are currently being employed such as supply air reset, static pressure reset, optimal start, enthalpy control, outdoor temperature lock-out and real-time energy monitoring to reduce consumption.
For lighting, constant light control with daylight and occupancy control is employed via DALI protocol to communicate with Lumenergi iB-100 ballasts and integrated directly through a LOYTEC L-DALI controller into the CEA-709 network supporting LonMark functional profiles for Lamp Actuator (3040), Light Sensor (1010), Occupancy Sensor (1060) and Constant Light Controller (3050). LOYTEC L-WEB desktop widgets via L-INX Automation Servers provide local lighting control with additional occupancy detection from individual PC's. This is a nice advantage that individual users can modify settings and have occupancy monitoring from a PC. A CEA-709 L-VIS Touch Panel provides control to the conference room areas. Lamp failure, run hours and supports "burn in" are all transferred into the CEA-709 network. Additional spaces in the building will be integrated with lighting control as part of ongoing tenant improvements. A CEA-709 L-VIS touch panel is utilized in the conference room areas. There is also an energy dashboard L-WEB project for showing energy history and currently daily use.
From the first phases of the automation installation the Parkway Atrium Building has already received Energy Star rating and is in the process of applications for LEED SILVER status.
---
Interesting Facts
Devices: LINX-101, L-IP Router, L-DALI, L-VIS, LWEB-803
Location
Herndon, Virginia, USA
Number of Nodes

NA
Topology
DALI with L-DALI Controller supporting LonMark functional profiles into CEA-709 network,
L-VIS Touch Panel and L-WEB System for visualization and control
Companies involved

NA
LOYTEC Components

LIP-3333ECTB Router
LINX-101 Server
L-DALI CEA-709 Lighting Controller LDALI-3E104
L-VIS 5.7'' Touch Panel
LOYTEC Tools

L-WEB System - LWEB-800 Visualization