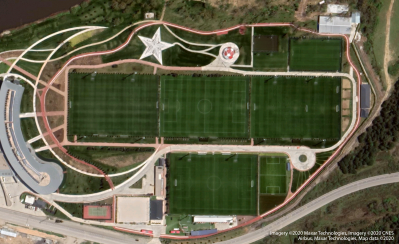 The new TFF training facility is built on around 38 thousand square meters and offers around 26 thousand square meters of indoor space. Highlights are a conference hall for 700 people, meeting halls ranging between 45 to 130 square meters, a prayer room, therapy pools, restaurants and two natural turf football fields. Three floors of 3500 square meters include a press centre, a meeting room and also several administrative offices.
Specially designed rooms for disabled sportspeople
20 of 82 rooms of the sports complex in the basement are specially designed for the handicapped people. The entire facility design is suitable for the use of the disabled people.
Controlled by LOYTEC's L-INX Automation Servers and LOYTEC's L-IOB I/O Controllers
The Turkish Football Federation building complex is equipped with 26 air handling units that have been integrated via Modbus TCP, a Modbus RTU based boiler plant and a dedicated VRF "Variable Refrigerant Flow" system holding a total of 5000 data points that has been integrated via BACnet. The supply and exhaust fans of the air handling units are monitored via 52 Modbus RTU based power meters. The whole HVAC system, including the power meters that are used for energy monitoring and energy management purposes, is controlled by LOYTEC's L-INX Automation Servers and LOYTEC's L-IOB I/O Controllers with LOYTEC's building automation library under the hood. In addition, 356 physical data points (mainly sensor data) have been integrated via LOYTEC's L-IOB I/O Modules. The visualization of the HVAC system and the energy monitoring data is web-based and directly stored on the controllers. Access to the visualization is granted via either an HTML5 capable web browser (LWEB-802) or via the dedicated LWEB-803 visualization software for Windows PCs.
With the new HVAC automation solution installed the Turkish Football Federation can concentrate on their main goals - continuous development of football in this country for all, improving participation and interest in the sport, facilities, coaching, standards of skill and behaviour and ensuring a vibrant national sport in the future.
---
Interesting Facts
Devices: L-INX, L-IOB Controller, L-IOB Modules, L-WEB
Location
Riva, Turkey
Number of nodes / data points
6774
Topology
BACnet IP, BACnet MS/TP, Modbus TCP, Modbus RTU
Companies involved
Termmarket
LOYTEC Components
LİNX-154 Automation Server
LİNX-215 Automation Server
LİOB-586 I/O Controller
LİOB-589 I/O Controller
LİOB-100 I/O Modules
LİOB-101 I/O Modules
LOYTEC Tools
LWEB-900 Integrated Building Management System
LWEB-802 Visualization via Web Browser
LWEB-803 Visualization
LOYTEC Building Automation Library