NAPP Pharmaceuticals, Cambridge, United Kingdom, 2015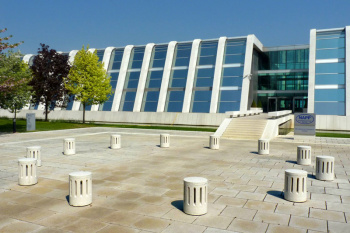 NAPP Pharmaceuticals based at the Cambridge Science Park in Cambridge employed both the consultancy and engineering divisions of the LOYTEC Competence Partner SGCI for the design and commissioning of a complex lighting control solution based on the open standard of DALI for their interstitial plant area within building 191.
SGCI's consultancy services worked closely with the client to understand their requirements which led to a design solution based upon the LOYTEC L-DALI system. The L-DALI system is complemented by networked multi-PIR sensors at points of ingress and egress, a 12.1" L-VIS touch panel for local user visualization (and also remote via VNC) along with network redundancy by way of industrial Ethernet switches with dual power supply feeds. The main control panel is also dual fed from both UPS and generator standby power systems.
One of the major requirements for the client was to identify failed lamps/ ballasts and also conduct their emergency lighting tests remotely and be able to record the results. This was easily achieved by using the L-DALI system as the L-DALI multi-master controllers along with a L-INX automation server provide automatic testing and monitoring of the emergency lighting and also the constant supervision and monitoring of all lamps and ballasts. By using DALI technology and the L-DALI system throughout the installation, it was possible to achieve this high level of lighting control and management.
The clients engineering team also benefitted from the L-DALI system as a remote VNC link to the L-VIS touch panel provides a graphical user interface. In addition, a diagnostics portal is available via the L-DALI multi-master controllers inbuilt web interface. Emergency lighting test results and any system or component fault, i.e. failed lamp, ballast or emergency control gear are reported by email to the engineering manager/supervisor across the NAPP intranet.
Interesting Facts
Location
NAPP Pharmaceuticals, Cambridge, United Kingdom

---

Number of Nodes
12 LON, 265 DALI ballasts

---

Topology

(CEA-709) FT-10, IP852 & DALI

---

Companies involved

SG Controls and Integration Ltd (design & commissioning), installation by SSE Contracting Ltd

---

LOYTEC Components
2 x LDALI-3E102, 2 x LDALI-3E104, 2 x LDALI-PWR2-U, 2 x LDALI-PWR4-U, 1 x LVIS-3E112, 1 x LINX-111

---

---

LOYTEC Tools


L-INX Configurator, L-VIS Configurator, L-Logicad (IEC 61131) & LPA (LOYTEC Protocol Analyser)