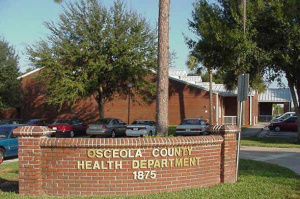 In the last ten years, demand for health care services has increased by 30 %. Osceola County Health Department addresses the lack of health care services in Poinciana, Florida. The five million dollar medical facility covers an area of 1,500 m2.
Originally, the specifications for HVAC (Heating, Ventilation, and Air Conditioning) control in the building were very basic and simply specified a BACnet control system. However, this left many unanswered questions such as how facility managers and other users operate the system or what type of BACnet system needs to be installed. Fortunately, the LOYTEC Integrator TBI had the answers.
The president of TBI, Rick Joyner quickly made the decisions to accomplish two goals. The first goal addressed the installation of an ALL-IP BACnet system. TBI carried multiple BACnet lines and realized a more reliable BACnet/IP connection that provided higher data capacity than BACnet MS/TP. For this solution, air handling equipment, chillers, and even VAV boxes from LOYTEC were used that communicate over BACnet/IP. Secondarily, LOYTEC devices can host HTML5 graphical projects individually. Mr. Joyner felt that this would be very valuable during the commissioning of the system, and in long term for the staff at the facility to monitor and operate the system.
During commissioning of the system, the third party commissioning test and balance agent (T&B) was positively surprised that they did not need any special programs or software to commission the VAV boxes. They simply used standard browsers and the local LCD display on the devices and could accomplish all balancing tasks without requiring any assistance from TBI to accomplish their work. T&B felt that this was one of the simplest projects they ever had.
The owners of the building were equally surprised when they realized what they received. A full, web based system with graphics. The building owners can easily navigate the entire building and operate the system with just little instruction required.
Since the systems at Poinciana Health Care facility went online, there haven't been any return calls for service onsite. Additionally, there were no communication issues since the start of the project. Rick Joyner relates that this ALL-IP system is the "way to go" for BACnet. Also the installation of the daisy-chain, redundant Ethernet LOYTEC controllers is very easy and can be done as quickly as the installation of fieldbus controllers.
---
Interesting Facts
Location

Poinciana, Florida

Topology
BACnet
Companies involved

Total Buildings Integration Inc.

LOYTEC Components
5 x LINX-102,
17 x LIOB-584
LOYTEC Tools

-