Press
Wednesday, 06 July 2011
Buildings under Control Symposium 2011, October 19 to 20 in Vienna, Austria
LOYTEC hosts innovative building automation solutions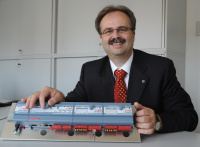 LOYTEC electronics, internationally recognized manufacturer of innovative building automation solutions, is pleased to announce the third Buildings under Control Symposium, which will be held in Vienna, Austria, from October 19th to 20th, 2011. The event targets an audience range of engineering and development people to sales, marketing and consulting professionals from around the world. Industry experts for intelligent, energy efficient automation and compatible control solutions for buildings will converge at the symposium. LOYTEC is proud to host this successful, popular meeting point for the building automation industry.
Read more in the full press release or download the photo in high resolution.
Wednesday, 22 June 2011
LOYTEC Extends Support and Training Unit
Jörg Welskop enhances LOYTEC's team in Germany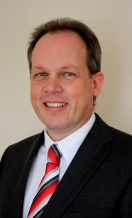 LOYTEC electronics, international specialist for innovative building automation systems, is pleased to welcome Dipl.-Ing. Jörg Welskop (50), a proven adept in the field of building automation, aboard. After several months of introductory training at LOYTEC's headquarters in Vienna Welskop will switch to the office in Gießen in the vicinity of Frankfurt and be in charge of the significant German market. Among others his responsibilities will comprise the design of libraries for LOYTEC's freely programmable Automation Servers, the support of LOYTEC Competence Partners in executing various projects, technical sales support and implementation of customer trainings.
Read more in the full press release or download the photo in high resolution.
Friday, 15 April 2011
LOYTEC Reinforces Quality Management
Stefan Holzer joins the team
LOYTEC electronics, specialized in innovative building automation solutions, reinforces it's team of employees at the Viennese headquarters. Stefan Holzer (35) assumes the management of the testing department and the quality tests of the locally manufactured electronic devices. So from now on he is responsible for the necessary development and automation of the testing facilities. Thereby he will contribute in an essential way to LOYTECs quality assurance system in the long run.
Read more in the full press release or download the photo in high resolution.
Friday, 01 April 2011
LOYTEC Pushes Participation in UK Building Automation Market
Attendance of BACnet FORUM London is a first move to strengthen market position and address new target groups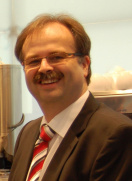 With ambitious aims LOYTEC electronics, Austrian supplier of open building automation devices and systems, will attend BACnet FORUM London on the 13th of April, 2011. For many years LOYTEC has successfully provided the UK market with infrastructure products, touch panels, gateways and DALI lighting controllers for building automation. Now the Austrian expert for intelligent automation solutions for green buildings will take the opportunity to present its new, highly advanced building controllers for BACnet networks to the UK market.
Read more in the full press release or download the photos in high resolution.