Press
Friday, April 01 2011
LOYTEC Pushes Participation in UK Building Automation Market
Attendance of BACnet FORUM London is a first move to strengthen market position and address new target groups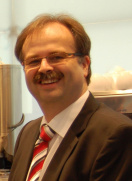 With ambitious aims LOYTEC electronics, Austrian supplier of open building automation devices and systems, will attend BACnet FORUM London on the 13th of April, 2011. For many years LOYTEC has successfully provided the UK market with infrastructure products, touch panels, gateways and DALI lighting controllers for building automation. Now the Austrian expert for intelligent automation solutions for green buildings will take the opportunity to present its new, highly advanced building controllers for BACnet networks to the UK market.
Read more in the full press release or download the photos in high resolution.
Wednesday, March 23 2011
LOYTEC Increases Exposure at European Industry Leading Trade Fairs
Interest in new Automation Servers extremely vivid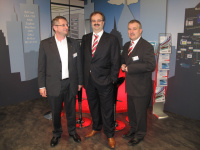 LOYTEC electronics, an expert for innovative building automation solutions, intensifies its participation in industry leading trade fairs. Therefore LOYTEC presented its product range for the first time at ISH this year, the world's biggest trade fair for the heating and air-conditioning sector. The Austrian provider of high tech solutions for modern building automation was in good company: more than 2,300 manufacturers – among them all market and technology leaders from all around the world - presented their latest products and trends at this industry leading trade fair from March 15th to 19th, 2011 in Frankfurt/Main, Germany. More than 200,000 visitors attended the event.
Read more in the full press release or download the photos in high resolution.
Thursday, February 03 2011
Participation in International Industry Leading Trade Fair for Building Automation AHR EXPO '11
Presentation of new L-INX Automation Servers attracts interest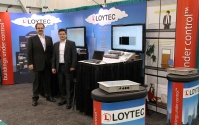 AHR EXPO 2011, a worldwide attraction for professionals in the building automation and building management industry, just closed its doors in Las Vegas. LOYTEC once again was present at the show, which with about 1,900 exhibitors from 31 different countries ranks among the world's major exhibitions for heating, ventilation and air conditioning.
The centre of attention was the presentation of the LOYTEC L-INX 150/151 Automation Servers with stackable L-IOB I/O extension modules along with the L-WEB system.
Read more in the full press release or download the photos in high resolution.
Wednesday, January 05 2011
LOYTEC Expands Worldwide Competence Partner Network
Increased exposure on three continents
Austria's LOYTEC electronics, supplier of automation solutions and network infrastructure products for innovative building automation systems, intensifies cooperation with local, independent system houses and system specialists in Europe, Asia and the US. Strategic alliances for networked building automation systems have been reached with Hörburger Control Systems and Heger Building Automation in Germany, Persy Control Services in the Netherlands, the Russian Arktika Group, Japan's Network Corporation, Controls Unlimited and MPBAS Building Automation, two companies based in the US.
Read more in the full press release or download the photo in high resolution.