Press
Wednesday, November 18 2009
LOYTEC Touch Panel Wins LonMark International Award 2009
LonMark International announced the winners of the annual LonMark International Awards in Frankfurt at the LONCOM Community Meeting on November 11, 2009. The LOYTEC L-VIS Touch Panel LVIS-3E115 was awarded "Best Product of the Year 2009".
The 15" Touch Panel LVIS-3E115 (1024x768) visualizes information from LonMark® Systems. The Touch Panel provides a flexible, graphical user interface that supports automation functions such as alarming, scheduling, and trending plus event-driven e-mail notification and mathematical/logical operations.
Read more in the full press release:
Wednesday, November 18 2009
The Best Researchers 2009 - Vienna Future Prize
Total Facility Control made easy: Loytec Electronics GmbH .NET application "L-WEB" makes it possible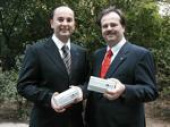 Buildings can be accessed form a PC or Smartphone to view energy consuption or control sunblinds, heating, lighting or even household applicances. L-WEB was awarded in the class "Most Innovative Application of the Year 2009".
With L-WEB automation space control can be utilized with a view to energy-optimized operation. Office, schools and other buildings benefit from making comfort adjustments individually or by building supervisors. This control can be individual or for campus wide installations. So, even from a centrally located monitoring center you can "adjust the temperature or turn off the light" explains CTO Dr. Dietmar Loy. "The goal is not only increased comfort, but the reduced energy costs by up to 30 % which improves the CO2 balance sheet".
Read more in the full press release or download the photo in high resolution.
Thursday, May 28 2009
Buildings under Control Symposium 2009
Competence Meeting in Vienna (Austria)
LOYTEC (Austria), Newron System (France), and Cimetrics (USA) extend an invitation to participate in the 2nd Buildings under Control™ Symposium held in Vienna (Austria) on September 8th—10th, 2009).
The Buildings under Control™ Symposium 2009 is addressing system integrators, specifiers, developers, sales / marketing staff, and consultant engineers worldwide, demonstrating the latest developments for the management and automation of commercial buildings and connected real estate.
The focus will be on IP-based solutions incorporating communication technologies like ISO/EN14908 (LON), BACnet (ISO16484-5), WEB Services, OPC, DALI, Modbus, M-Bus, and other open communication standards. Core technologies, user interfaces, integration platforms and network infrastructure products will be discussed.
Read more in the full press release:
Friday, February 06 2009
AHR EXPO 2009: In spite of crises scoring with energy efficiency and sustained yield
AHST Chicago Press Release from WKO
Only available in German language.