Rheinhallen (RTL Studios), Cologne, Germany, 2011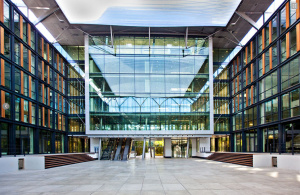 It's a building of superlatives: the biggest building site in Germany while under construction, one of the largest office complexes all over Europe and the biggest one in Germany, measured by its gross floor area of 160,000 square meters. And Europe's biggest private TV station has moved in, the RTL media group, consisting of the channels RTL, RTL2, Super RTL, VOX and NTV. 2,000 employees of RTL media group – finally united at one single location – took over two thirds of the huge building, the last third became the administrative center of HDI Gerling Assurance Company.
Construction and architecture had to fulfill a challenging task. Originally the "Rheinhallen" were Cologne's fair grounds, erected during the twenties of the last century on the initiative of former chief mayor Konrad Adenauer. The exhibition center was built close to the river Rhein, on the riverside directly opposite the world-famous cathedral of Cologne. It possesses a very distinctive tower at its north-west corner, built between 1922 and 1928, as was the whole complex.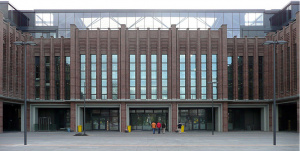 As the tower and the characteristic red brick facade, which surrounds the whole site, were landmarked, the whole ensemble had to be cored. All inner parts of the buildings were torn down to make room for the modern technical equipment of a broadcasting station. While the move took place in several phases, broadcasting had to continue without disturbances. In maintaining the architectural context of urban building, a modern administration complex integrating a TV transmitter was formed behind the historical facade. Behind the landmarked walls of the "Rheinhallen" the glass facades of the newly erected inner buildings are grouped around 14 atria. Between the two big halves of the building a passage for the public was inserted. In constructing the building especially aspects of saving resources and ecological criteria were taken into account. For instance the waste heat of the broadcasting areas is used for heating the offices and during summer the groundwater is used for cooling the rooms and gets drained into the river Rhein afterwards.

Section of building media group RTL:
In this part of the building around 170 LIP-33ECRB redundant routers were built in to establish a completely redundant network. LIP-33ECRB was the perfect product to fulfill the building owner's demands for a failure resistant building automation system. For the overriding building management system LOYTEC had to develop a specific software solution, which allows the redundant operation of the management level. NIC852-SW is the result of this development and since then part of LOYTECs product portfolio. 4 L-Proxy devices (LP-33E100) allow data exchange between network segments.

Section of building HDI Gerling insurance:
Here without exception LOYTECs "classical" infrastructure products – LIPs - were used.
Interesting Facts
Location
Cologne, Germany

---

Number of Nodes

NA

---

Topology
IP-852 network

---

Companies involved

HGI Heger Gebäudeautomation

---

LOYTEC Components

170 LIP-33ECRB L-IP redundant routers, 4 L-Proxys (LP-33E100), 12 NIC852-SW, 20 LIP-3333ECTB, 10 LIP-33ECTB, 30 LIP-3ECTB

---

LOYTEC Tools

LPA, protocol analyzer