Event Review: AHR 2019 in Atlanta, USA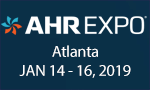 Have a look at the highlights of the LOYTEC booth at AHR 2019 in Atlanta!
From January 14 - 16, the AHR show 2019 opened its doors to a large audience. Together with Delta electornics LOYTEC presented exciting live demos including the award-winning L-DALI lighting control solution, the LIOB-585 unitary and terminal controller, and the brand new IoT integraton capabilities. The LOYTEC team says thank you for meeting us at booth C5307!