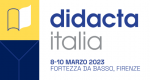 MAR 8-10, 2023
Fortezza da Basso, stand i63
Florence
Italy


LOYTEC is proud to have participated to this year edition of the "Fiera DIDACTA Italia", the most important event about innovation, technology and the future of school in Italy, that took place this year at the magnificent venue of Florence.
Our Italian team was delighted to introduce to oure customers innovative solutions to increase energy savings and comfort in school buildings. The LOYTEC team was also pleased to present our solutions and case studies on March 8th, with the workshops entitled:
Gestire la scuola con un click: progettare una infrastruttura di rete comune alla integrazione di tutti i sottosistemi degli impianti e aperta alle nuove tecnologie
Efficienza energetica per il nuovo plesso scolastico di Casciana
Enjoy some impressions of Didacta 2023 - Smart Building Edu 2023!
---