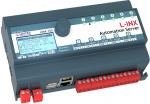 LINX-xxx LGATE-xxx LROC-xxx LIOB-xxx LIP-ME20x LDALI-xxx Firmware for all L-INX Automation Servers, L-GATE Gateways (for BTL-certified LGATE-900 devices start from serial no. 009714-xxxxxxxxxxxx), L-ROC Room Controllers, LIP-ME20x Routers, LIOB-AIRx Controllers, LIOB-xxx Controllers and L-DALI Controllers.

The L-INX Configurator (32-bit) / L-INX Configurator (64-bit) is the configuration tool for all versions of the L-INX Automation Servers, the L-IOB I/O Modules and Controllers, L-DALI Controllers, the L-GATE Universal Gateways and also for configuration of LIOB-AIR Controllers and L-ROC Room Controllers with L-STUDIO.


L-INX / L-GATE / L-ROC / L-IOB / LIP-ME20x / L-DALI 7.6 Release Tutorial
This video presents several new features of the new firmware release.

0:15 BTL Test Plan 16
0:54 Structure of the System Registers
1:21 Historic Filters
2:09 WiFi Enterprise
2:44 Node-RED Enhancements