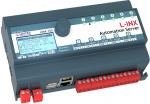 LINX-xxx LGATE-xxx LROC-xxx LIOB-xxx LIP-ME20x LDALI-xxx Firmware for all L-INX Automation Servers, L-GATE Gateways (for BTL-certified LGATE-900 devices start from serial no. 009714-xxxxxxxxxxxx), L-ROC Room Controllers, LIP-ME20x Routers, LIOB-AIRx Controllers, LIOB-xxx Controllers and L-DALI Controllers.


L-INX / L-GATE / L-ROC / L-IOB / LIP-ME20x / L-DALI 8.0 Release Tutorial
This video presents several new features of the new firmware release.

0:12 iCalendar Scheduler
2:54 BACnet/SC
4:40 Improvements of the Web Interfaces
5:39 Node-RED 3.0
6:23 Edge Trigger of Trends
6:58 New Modbus Dialogue