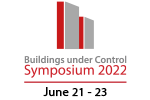 In June LOYTEC hosted the Buildings under Control Symposium 2022 at the Techgate Vienna. The LOYTEC team exclusively presented in-depth news on new developments and market trends regarding building automation to LOYTEC business partners from all over the globe.
Numerous partners presented case studies of various vertical markets that rely on LOYTEC solutions - office buildings, schools, luxury hotels, warehouses, and many more. Live demos were exhibited to get deeper insight about the LOYTEC solutions and products. Visitors could also experience the brand new LWEB-APP using their own mobile devices to access information and operate the demos in a new very intuitive way. We were very appreciative of our catering partner that ensured our guests were well supplied with refreshments as they visited our demo stands and the unique opportunity to discuss technical features directly with LOYTEC product managers, creating a positive networking environment between partners and LOYTEC.
On Tuesday evening we were delighted to invite our partners to the cosy atmosphere of the Wieninger Heuriger, enjoying delicious wines accompanied by a big variety of Viennese cuisine.
On Wednesday evening we had the pleasure to invite our partners to the magnificent Kunsthistorisches Museum, for a memorable dinner under the Kuppelhalle and a private tour of the museum.
At the "Friday Surprise Tour 2022" our partners could experience Pannonia, its culture and its cuisine. The tour took us through the historical venue of Carnuntum, famous for being the largest roman outpost outside of Italy. The tour continued with a lunch at Gasthaus zur Dankbarkeit in Podersdorf am See, with traditional cuisine from regional ingredients and local interpretation of international cuisine. In the afternoon we stopped by the World-famous Kracher Winery, in the Seewinkel area for a special wine tasting. We then moved with horse carriages to Illmitz, crossed the Neusiedler Lake with a boat to finally reach the Esterházy Palace for a well-deserved dinner in one of the most beautiful baroque palaces in Austria.
Enjoy some impressions of our Buildings under Control Symposium 2022 or watch the BUCS 2022 video. A selection of BUCS 2022 presentations can be downloaded here (only for BUCS guests). See you again in 2 years!
---