Event Review: China Refrigeration Expo 2019 in Shanghai, China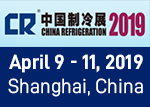 LOYTEC products and solutions were shown at the China Refrigeration Expo in Shanghai. Have a look at some photos of the event!
LOYTEC showcased complete HVAC solutions applying a variety of successful cases, HVAC use scenarios such as chiller group control, fan coil networking control or indoor air quality.