Thursday, 08 December 2016
Awarded: LOYTEC received the 2016 Lux Award for the Manchester Airport Project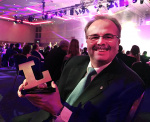 The international jury awarded LOYTEC the award for "Project of the Year 2016" in the "Industrial and Transport Lighting" category and emphasized the benefits of the DALI lighting system. With the Manchester Airport project, LOYTEC is demonstrating what the intelligent L- DALI lighting system can achieve in terms of energy efficiency.
Using the most current technology, the LOYTEC lighting control system allows full integration into the existing systems of Manchester Airport. Uniquely, the L- DALI lighting solution has been linked to both the existing BACnet system and the flight information system. It has been designed to provide additional energy savings through this smart interaction. The L- DALI lighting solution includes daylight -dependent and presence- based constant light control, reducing maintenance by monitoring the luminaires in terms of failures and operating hours. Thanks to the L-DALI solution, the exemplary at Manchester Airport generates energy savings of a remarkable 86% every year. Around 7GWh are saved each year, which is enough energy to supply 2000 average households.

Read more in the full press release.