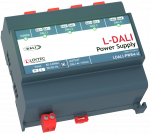 Leading building automation solution provider LOYTEC electronics today announced that its LDALI-PWR4-U is the world's first DALI bus power supply, which successfully passed the DALI-2 certification process.

Hans-Jörg Schweinzer, CEO of LOYTEC electronics, said: "We are very proud to be among the first companies in the industry to certify DALI-2 devices in general and the first one to certify a DALI-2 bus power supply. This not only shows our strong commitment to DALI, the DiiA and the DALI-2 certification, but also once again proves LOYTEC's claim to be a leading edge technology provider."
Read more in the full press release.