Langestraße 100, Baden-Baden, Germany, 2016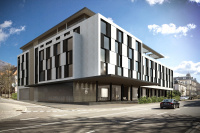 Langestraße 100 in Germany is a newly built 5-star rated design hotel with 130 spacious rooms and suites, a state-of-the-art medical center with 15 medical specialists, an apartment building with 16 flats and a two-storey underground garage with 200 parking spaces.
Close to the Festspielhaus Baden-Baden, Germany's largest opera and concert house, a group of buildings is being developed with a five-star hotel as the central element. It is arranged at a forecourt which is planned to be used for summer gastronomy as well as events before and after performances in the Festspielhaus. The tenant of this new hotel is the well-known group of operators of the internationally celebrated "Roomers" design hotel in Frankfurt. In 2010 "Roomers" in Frankfurt won the "hotel property award of the year".
A main goal of the new "Roomers" in Baden-Baden is to offer the most comfortable place for customers of the hotel and the restaurant, to provide a luxurious lifestyle and relaxation at an international level. The well-known Italian designer Piero Lissoni (Lissoni Associati) implemented the interior visions of the investor as well as of the operator.
F.B. Wagener, constructor and investor, intends to realize a project that fits into Baden-Baden and the surrounding districts of the Festspielhaus. The area emphasizes a favourable development of the district and wants to provide enriching ideas to the town as a whole.
Interesting Facts
Location

Baden-Baden, Germany

Number of nodes

1000

Topology

OPC UA, BACnet® IP, Modbus RTU, Modbus TCP, DALI, KNX IP, KNX TP, M-Bus

Companies involved

LOYTEC Systempartner: PGA Gesellschaft für Prozess- und Gebäudeautomatisierungstechnik mbH
Building owner: Lange Straße 100 GmbH & Co. KG
Project controllers: PrOBau Gesellschaft für Projektorganisation im Bauwesen mbH
Architects: Architecture office KHP in Baden-Baden
Architecture Interior-Design: Piero Lissoni of Lissoni Associati
Specialist planning technical building equipment: KW2 engineers
Engineering partnership, Rappenstraße 13, 76227 Karlsruhe

LOYTEC Components

141 x LROC-100 Room Controller
17 x LROC-102 Room Controller
3 x LGATE-951 Universal Gateway
135 x LSTAT-800-G3-L2 Network Thermostat
260 x LIOB-100 I/O Module
65 x LIOB-102 I/O Module
138 x LIOB-103 I/O Module
25 x LPOW-2415B Power Supply
62 x LIOB-A4 L-IOB Adapter
11 x LIOB-A5 L-IOB Adapter
6 x LDALI-PWR4-U DALI Power Supply
6 x LDALI-ME204-U BACnet DALI Controller
140 x LKNX-300 KNX Interface
6 x LVIS-3ME15-G2 Touch Panel

LOYTEC Tools

L-STUDIO
LWEB-900 Integrated Building Management System
L-VIS Configurator