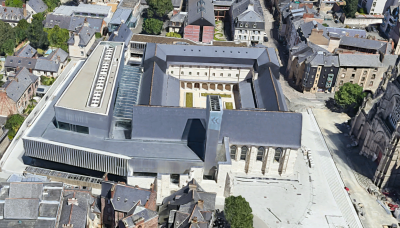 Solution: L-DALI Lighting Control

This VINCI Construction project for Rennes Métropol transformed the convent into an event center with conference rooms, an auditorium with 1000 seats, exhibition rooms and an administrative building. A highlight of this project is the combination of exceptional ultra-modern construction methods and ancestral know-how because it is a listed historic building.
14th century building retrofitted for upcoming century
The LDALI-ME204-U lighting controllers from LOYTEC (each controller can manage up to 256 DALI luminaires) control all the rooms of the convention center except the auditorium. All controlled luminaires (Erco or Philips) are communicating via DALI. 22 LOYTEC controllers (4 DALI channels per controller) cover a total of 88 DALI channels needed to connect all relevant luminaires installed in the rooms. The L-DALI controllers communicate to the building management system via BACnet IP protocol.
Constant lighting control enables high energy efficiency
Constant lighting control takes presence and brightness into account has been implemented to ensure high energy efficiency. Around thirty LDALI-BM1 Push-button Couplers are used for manual overriding of the light level in conference rooms in case of a presentation (presentation scene recall). LOYTEC's L-DALI controllers are also used to report any lighting failures (lamp fault or LED driver fault). Engie Solutions is very proud to announce that after 2 years of operation of the system, no failures have been reported.
Conclusion
The City of Rennes was completely satisfied with the work of Engie Solutions and the implemented L-DALI lighting control solution in the various rooms of this historic monument. And good news seldom comes alone: LOYTEC proves that state-of-the-art technology can also be used in historic buildings - thus preserving the cultural heritage for future generations and making the Jacobins convent one of the most worth seeing attractions in the region.
---
Interesting Facts
Devices: L-DALI BACnet Controller, L-DALI Push-button Coupler
Location
6 Rue d'Échange, 35000 Rennes, FRANCE
Number of nodes
52
Topology
DALI bus, BACnet IP via Ethernet
Companies involved

Ineo Atlantique,
Rennes Métropole
ENGIE SOLUTIONS

LOYTEC products


22 x LDALI-ME204-U DALI Lighting Controller
30 x LDALI-BM1 Push-button Coupler

LOYTEC tools
LINX-Configurator