Montag, 06. Juni 2022
LWEB-APP - Die neue LOYTEC App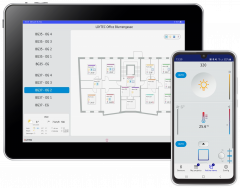 LWEB‑APP is a graphical user interface to operate and monitor LOYTEC building
automation systems. In combination with LOYTEC multi‑sensors (LDALI‑MS2‑BT
and LDALI‑MS4‑BT) it is the perfect solution for room control in office buildings.
The LWEB‑APP detects the multi‑sensors in the room and can automatically open
the corresponding graphical user interface.
The LWEB‑APP is available for Android and iOS systems, and can be downloaded
from the Google Play Store and the Apple Store.