Awards
Mercur 2005

Within the Mercur 2005 contest LOYTEC won the special price Econovius for small and medium companies for its multi-protocol platform L-Core. This price is awarded by the Federal Economic Chamber of Vienna to the most innovative company. LOYTEC is now nominated as the Viennese candidate for the State Price for Innovation.
Export Award 2005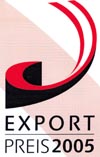 LOYTEC was granted the Austrian Export Award 2005 in the category "Information & Consulting". This award is a distinction for companies which develop foreign markets with surpassing commitment and success.
Top-100-Jungunternehmer 2004

In Austrian's most prestigious award for the entrepreneur of the year 2004, LOYTEC was awarded the 2nd place among more than 1400 participants.
Walter Nettig-Preis 2004

The "Walter Nettig-Preis" is awarded every year to the most successful start-up companies in Vienna. LOYTEC was able to win the category "best service enterprise".