Awards
Constantinus 2013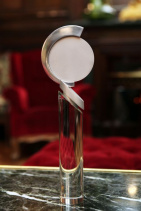 At the annual CONSTANTINUS Awards Austria's best Consulting and IT companies compete for the honor to become nominated or awarded for outstanding quality. UBIT - the Austrian Professional Association of Management Consultancy and Information Technology has created the CONSTANTINUS Award to promote excellence in consulting and IT-services. The CONSTANTINUS has so far been awarded to UBIT members and their respective customers each year since 2003. It has become the leading national award for knowledge-based services in Austria. The award ceremony took place in the Congress Center of Schladming (Styria) on June 13th, 2013. Criteria for the award are commercial performance, strategic strength, quality of solution, efficiency and international impact. LOYTEC has succeeded in winning the category "International Projects" with a L-INX based solution for the SONY research center in Tokyo, a building achieving remarkable energy efficiency criteria. Winning this trophy automatically also led to the nomination for the State Prize Consulting/IT rewarded by the Federal Ministry for Economics and Labour.
Pegasus 2013

The Pegasus Award is granted to the most successful companies of Upper Austria and is the most recognized business award in this province of Austria. Receiving the Pegasus Award in silver for the second time after 2008 due to exceptional performance is yet another appreciation of the high level of business performance at LOYTEC. The ceremony took place on the 6th of June at the Brucknerhaus in Linz. For the twentieth time in succession selected companies were honoured with the Pegasus trophy.
Industry Award 2013
Every year the best industrial companies are awarded with the "Industry Award" by Huber Publishing House for New Media. The award shall emphasize the enterprises' strength and innovative energy. High technological, economical, ecological or social value are the criteria which the top-class expert jurors take as a basis in evaluating the submissions. The jury consists of 30 professors an expert journalists. This high number and constellation grants objective appraisal and makes the award unique in the industry.
LOYTEC was nominated for the leaderboard in the category "Electrical engineering" with the project "Energy efficient lighting and sun blinds control in the tallest building of the Basque country - Iberdrola Tower". This huge business center in Bilbao consists of 41 floors, where 20.000 DALI luminaries and 5.000 automated sun blinds are controlled via 70 L-DALI Controllers and 35 L-INX Automation Servers.
Best Infrastructure Product 2012 by LonMark International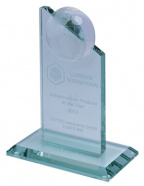 For the fourth time in succession LOYTEC was awarded "Best Infrastructure Product of the Year" by LonMark International. Against keen international competition LOYTECs
LGATE-950
 Universal Gateway could come out the winner of this worldwide contest. Nominations were judged based upon the following criteria: uniqueness of solution, addressing industry problem with effective solution, openness of solution and integration into an open ISO/IEC 14908 system. Special consideration was given to energy efficiency, industry best practice solution and sustainable design principles.
"Every year we continue to be impressed with the level of innovation from our members," said Barry Haaser, executive director, LonMark International. "The dedication to innovation grows significantly and this year's winners truly demonstrated superior levels of expertise with open control networking technology based on the ISO/IEC 14908 suite of standards."