L-VIS Touch Panels for BACnet networks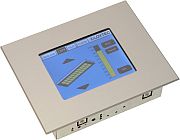 Related Links
The LVIS-ME200 Touch Panels for BACnet networks are ideally suited for visualization and operation of various applications in building automation. L-VIS Touch Panels visualize building systems, can be used as room operator panels, in hospital operation or isolation rooms, conference and reception areas. The fully customizable user screens can show dynamic pages that are easy to navigate. L-VIS Touch Panels make use of an extremely low power embedded controller platform utilizing an embedded operating system. This makes L‑VIS resistant against problems when re-booting after power outage and also against any viruses.
L-VIS impresses with its timeless design, harmonic integration into modern and historical architecture, and with its extremely user friendly concept. The shallow installation depth and low thermal power loss allow mounting in almost any location.
Dynamic Graphical Pages
The graphical pages may consist of multiple dynamic graphical controls that show the current plant status in real time. It is also possible to access decentralized schedules, alarm servers, or trends. The graphical projects are designed with the L-VIS/‌L-WEB configuration tool free of charge. Without any know-how in HTML or Java, user specific graphical pages can be created. Dynamic information is shown through value or text controls, changing symbols, bar charts, trend views, alarm and event lists, or schedule controls. The L-VIS/‌L-WEB configuration tool allows for using most of the pixel graphic formats (GIF, JPG, BMP, TIFF, PNG, MNG, ICO), vector graphics (SVG) and alpha blending.
Automatic Page Generation
Pages including data point names and values, alarm views, schedules, or trends can be created automatically by the L-VIS/‌L-WEB configuration tool. This significantly reduces engineering time and cost.
Connectivity and Data Points
The L-VIS Touch Panels support connectivity to BACnet/‌IP and BACnet MS/‌TP and implement the BACnet Building Controller (B-BC) profile. They include a fully featured built-in BACnet/‌IP to MS/‌TP router with BBMD and slave proxy functionality. In addition, the L‑VIS Touch Panels provide connectivity to Modbus TCP via Ethernet/‌IP and to Modbus RTU via RS-485.
Math objects can calculate any kind of formula using data points available on the device. The resulting data point value can then be either shown on the page or provided via a BACnet object. All BACnet server objects are automatically mapped to OPC XML-DA data points that can be accessed via Web services.
The L-VIS devices provide fully featured AST™ functionality (Alarming, Scheduling, and Trending) and can be integrated perfectly into the L-WEB Building Management System.
L-VIS Touch Panels for BACnet networks Products

---

LVIS-ME200

BACnet Touch Panel with 5.7" display

Add this product to the Request for Quote
Related documents and software for LVIS-ME200

3D View for LVIS-ME200


27eb5ae897354cf8add4848b24bee541

---

LVIS-FRAME1

Mounting frame for 5.7" Touch Panels

Add this product to the Request for Quote
Related documents and software for LVIS-FRAME1

3D View for LVIS-FRAME1


edda09ccb30c497480e4ac5406fa67e8