Upcoming Events
LOYTEC Online Seminars in Italian Language in November, December 2020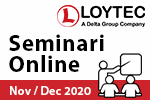 November / December 2020

Don't miss out on our upcoming online conferences! All online seminars will be held in Italian language and last for a maximum of 1 hour.
LOYTEC & VIVOTEK - BMS & TVCC
Sempre più la videosorveglianza diventa parte integrante dei sistemi di BMS: Loytec & VIVOTEK, entrambi Delta Electronics Company, si presentano e introducono dei semplici e realistici esempi di integrazione.
19 novembre 9:30
23 novembre 16:30
Soluzioni HVAC su protocollo standard con la partecipazione di Belimo
Proposta di soluzioni HVAC stand-alone e aperte a protocolli standard (BACnet, LONWorks, Modbus, etc.) per integrazione negli edifici pubblici e residenziali. Presentazione della linea di prodotti L-IOB e della piattaforma SW gratuita L-STUDIO con attenzione speciale alle soluzioni innovative della gamma di sensori Belimo:
26 novembre 9:30

Soluzioni di monitoraggio e raccolta dati con IoT
L'approccio IoT consente di gestire gli impianti e la raccolta dati su CLOUD con architetture flessibili e poco costose: analizziamo alcuni casi partendo dai fondamenti teorici e dalla proposta del tool NodeRed e il protocollo MQTT. LOYTEC continua a garantire la connettività con i protocolli standard del mondo BMS e amplifica le funzionalità dei gateway verso i protocolli e servizi dell'IoT.
27 novembre 9:30
30 novembre 15:30
Soluzioni LOYTEC di room control, caso tipo: un edificio scolastico
Presentiamo un caso tipo di utilizzo della piattaforma L-ROC per una applicazione di room control su una tipica scuola italiana. La piattaforma L-ROC permette di realizzare soluzioni di Room Control perfettamente integrate con i dispositivi di campo sui diversi protocolli standard di mercato salvaguardando il tempo di configurazione e avvio dell'impianto.
25 novembre 9:30
02 dicembre 15:30
Soluzioni LOYTEC di BMS: architettura dei sistemi di BMS con infrastruttura di rete su IP e supporto per tutti i protocolli di campo
Le attuali architetture dei sistemi di BMS richiedono conoscenze di base per la infrastruttura di rete IP e i diversi protocolli di campo: rivediamo insieme le diverse soluzioni di mercato e i dispositivi fondamentali ( gateway, router , switch e touch screen).
17 novembre 9:30
20 novembre 9:30
Tutorial L-VIS / L-GATE
Una sessione squisitamente tecnica per introdurre gli addetti ai lavori alle fondamenta tecniche di questi dispositivi e alle modalità di configurazione.
4 dicembre 9:00
This email address is being protected from spambots. You need JavaScript enabled to view it. or This email address is being protected from spambots. You need JavaScript enabled to view it. are awaiting your registration and can give you further details on each seminar!
Smart Building Roadshow 2020 in Italy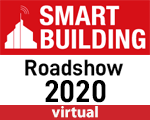 September - December 2020

LOYTEC will participate at the Smart Buidling Roadshow in Italy. This years' road show will be held in virtual form and focus on building related topics on 7 days. All events will be held in Italian language.

Save the date: October 16
Mr. Paolo Lagana, LOYTEC Sales Manager Italy, will present "Big Data versus efficienza: dai sensori alle piattaforme di controllo e gestione".
Further details can be found here.