Awards
Lux Awards 2018 - LOYTEC Shortlisted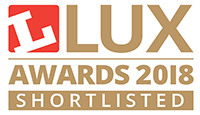 We are proud to announce that our LDALI-MS2 Multi-sensor is in the running for the Lux Awards 2018 and managed to get on the shortlist in the category "Controls Product of the Year". This category honors the most outstanding innovation including control systems, interfaces, ECG and sensors. The Lux Awards Ceremony 2018 takes place in London.
ACREX Award 2017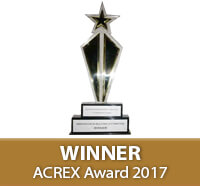 In February 2017 LOYTEC received the Indian Award for "Innovation in Building Automation". Delta Power Solutions India submitted two case studies, in which LOYTEC solutions for building automation were used. With this "ACREX Awards of Excellence 2017" the project at Manchester Airport once again receives special recognition in addition to the project at Hypermarket Malaysia.
Lux Awards 2016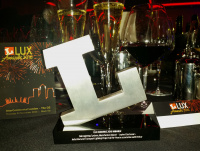 With the Lux Award "Project of the Year 2016" LOYTEC succeeds in the category "Industrial and Transport Lighting" in London. The international jury awarded the Manchester Airport project, which has successfully implemented a modern DALI lighting system with constant light control and presence detection. LOYTEC shows with Competence Center Calon, what intelligent building management systems can achieve in terms of energy efficiency.
Success Story of the Year 2016 - UBIT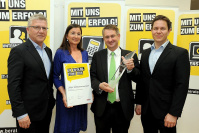 The specialist group for information technology (UBIT) of the chamber of commerce awarded the project "Building Automation for a Malaysian Hypermarket" as success story of the year. The managing director Gernot Fellinger congratulated LOYTEC for this successful project that has been carried out in cooperation with the Malaysian company M&C Engineering and Trading. The LOYTEC automation solution controls heating, ventilation, and air conditioning on an area of 9,000 m2 with 55 shops. Moreover, the system collects energy data, uses open communication standards and allows for remote control.