Evénements à venir
GNI-Feierabendseminar: Flexible and Integral Roomautomation in Steinach, Switzerland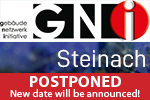 Experience the seminar focussing on "Flexible and Integral Roomautomation" and get to know the benefits of integral planning and highly integrative control systems!
Ort: Ampèrestrasse 3, 9323 Steinach, Switherland
Date: Postponed - new date will be announced soon!
GNI-Members: free of charge / Verbandsmitglieder: CHF 30.00.- / Rest: CHF 50.00.
Further details can be found in the invitation folder: Register here.
AIRAH Industry Nights 2020 in Perth, Australia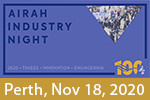 June 11, 2020

AIRAH Industry Nights
Perth, WA
HBF Stadium
BCS, LOYTEC Competence Center in Australia, will exhibit at the AIRAH Industry Nights 2020 in Perth. The Australian Institute of Refrigeration, Air Conditioning and Heating (AIRAH) brings its Industry Nights to 15 cities across Australia in 2020. This event is free to attend and a great opportunity for those working in or curious about the heating, ventilation, air conditioning, refrigeration and building services industries.
AIRAH Industry Nights 2020 in Western Sydney, Australia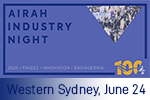 June 24, 2020