Evénements à venir
FH Technikum Karriere Lounge & Master Night in Vienna, Austria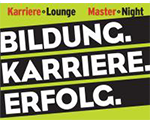 May 9, 2019
Smart Building Roadshow 2019 in Italy
May - October, 2019, Vicenza-Roma-Milano-Bari

Roadshow: "The plant design of the 4.0 building"
www.smartbuildingitalia.it/agenda-2019
LOYTEC will participate at the Smart Buidling Roadshow in Italy focusing on themes like connecting buildings to the network, showing the design of a smart building through the concept of building 4.0. BIM, BEMS, energy efficiency and new home automation. The road show will take place in four cities:

May 10th, 2019 in Milan
June 7th, 2019 in Rome
September 13th, 2019 in Vicenza
October 11th 2019 in Bari

Further details on each event will be published when they become available.
TUday in Vienna, Austria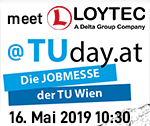 May 16, 2019
Vienna, Austria
Freihaus und Library TU Wien
Booth D02 / Library
10:30 am - 4 pm

tuday.tucareer.com

Meet LOYTEC at the TUday on the campus of the Vienna University of Technology and use the opportunity to discuss entry-level and internship options. You will find LOYTEC in the Library, booth D02.
Here you can have a look at current job vacancies.
Conférence DALI LOYTEC in Lyon, France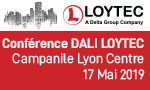 Mai 17, 2019

Lyon, France
Campanile Lyon Centre - Gare Part Dieu
31 rue Maurice Flandin
69003 Lyon à 8H45
LOYTEC vous invite à une série de présentations dédiées au contrôle de l'éclairage : Qu'est-ce que DALI ? DALI-2 ? Pourquoi ? Comment ? Où ? Les acteurs ? Exemples ? Nous avons les réponses.
Merci de consulter le fichier PDF pour le programme de la matinée et l'adresse e-mail pour vous inscrire.
Lighting Conference 2019 in Spielberg, Austria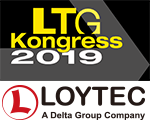 May 21 - 22, 2019
Spielberg, Austria
Red Bull Ring - Voestalpine Media Center

www.ltg.at

"Meeting place of light" for lighting experts, architects, planners, electricians, authorities and people interested in light, under the motto "2019 News from the world of light in theory and practice". Volker Barth, our sales manager for the region of Southwest Germany, will speak about "Beyond Lighting - Synergies in Building Control" on May 21st at the event. We look forward to interesting expert opinions and lively discussions!

The event will be held in German language. Please have a look at the PDF to find out details concerning the complete programm of the event.
Lightfair International 2019 in Philadelphia / USA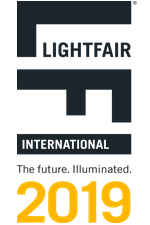 May 21 - 23, 2019
Philadelphia, USA
Pennsylvania Convention Center
Booth: 4259

www.lightfair.com

LOYTEC will present the L-DALI lighting solution at the world's largest annual architectural and commercial lighting trade show and conference. Where new discoveries, new connectivity, new knowledge and new solutions propel lighting design quickly into the future.